Nerium International Announces First Quarter New Business Growth
April 14, 2018
By Nicole Dunkley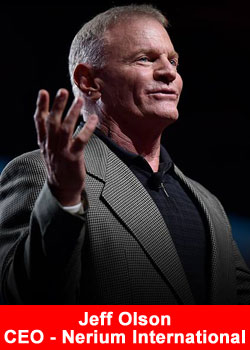 "With the addition of Bo Short leading our sales organization and his focus on field training and leadership development, the strategic introduction of innovative new skincare and wellness products, and recent sales incentives, Nerium International is experiencing impressive growth of new Independent Brand Partners in recent months,'
said Founder and CEO Jeff Olson.
Nerium Internationals U.S. and global sales teams are flourishing in markets throughout North America, Asia-Pacific, Latin America, and Europe with month over month growth in new brand partners joining Nerium in many markets.
In February, Nerium Australia saw a 90 percent increase, Nerium Mexico a 120 percent increase, and Nerium Colombia a 245 percent increase.
In March, Nerium U.S. and Nerium Hong Kong each saw a 73 percent increase, Nerium Japan an 85 percent increase, Nerium Canada a 163 percent increase and Nerium Korea experienced an unprecedented 237 percent increase. Nerium International has also announced its intent to expand in Switzerland to complement its German and Austrian European markets.
Beyond growth of new Brand Partners, Nerium has also seen some exciting rank advancements in its existing Brand Partner base even welcoming a new 4-Star National Marketing Director, which is a top rank in Nerium.
Our new 4-Star National Marketing Director Jenny Song from Nerium Korea is an example of high achievement and determination'" without any direct sales experience, she worked over the last few years to help her team succeed and is reaping the rewards of that hard work. We are extremely proud of Jenny as a beacon of light to others as to what is possible,' said Chief Sales Officer Bo Short.
Since the companys August 2011 launch in the U.S., Nerium International has developed a breakthrough line of exclusive age-fighting skincare and wellness products that are science-based and produce real results to look, feel, and live better.
The fast-growing company has broken sales records while building consumer fans around the world operating in the U.S., Canada, Mexico, South Korea, Japan, Hong Kong, Colombia, Australia, New Zealand, Germany, Austria, and Singapore. Nerium International provides multilingual customer service, a robust suite of marketing and training materials, a global enrollment system, and a technologically advanced system to help support the success of its Brand Partners.
Our Nerium Brand Partners are constantly giving their highest efforts and truly embody the Nerium culture to Make People Better. Their willingness to master skills for business success is the driving force behind our ability to raise great global leaders,'
said Short.
About Nerium International
Based in Addison, TX, Nerium Internationalis a global relationship marketing company with age-fighting products crafted from cutting-edge research and science. Founded in 2011, Nerium International has shattered industry sales records while developing a strong customer base in North American, Latin American, Asia-Pacific and European markets.
This unprecedented success has allowed Nerium International to generate $1.5 billion in cumulative sales after six years. Nerium International was recognized for its historic growth by ranking No.1 on the 2015 Inc. 500 List of fastest-growing private U.S. companies in consumer products and services and No. 12 in overall, as well as No. 38 on the 2016 Direct Selling NewsGlobal 100 List.
Led by an executive leadership team with vast domestic and international experience, Nerium International is committed to providing an excellent product line based in real science and providing its Independent Brand Partners with a life-changing and outstanding business opportunity through relationship marketing. For more information, please visit: https://www.nerium.com/.