Nspire Projects $50 Million In Sales For 2018
April 3, 2018
By Team Business For Home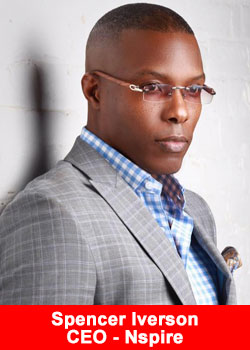 Nspire has successfully overcome many of the typical challenges faced by new companies – back orders, system failures, leaders leaving, etc.
However, in their first 10 months, Nspire has generated more than $5.1 million in sales. In 2018 Nspire has an aggressive goal of $50 million.
Nspire CEO Spencer Iverson stated:
"It is an uncommon occurrence for direct sales companys products to get recognised by todays traditional' media, so when it does happen, its a victory for the entire direct sales community – not just the company being highlighted."
Such has become the case with Nspire Network and its Cherish Premium Sanitary Napkins.
Nspire's breakthrough awareness campaign, Now We No , 5K run/walk events, and customer first' approach captured the attention of a Senior Editor with Essence magazine and the producers from the acclaimed television series Modern Living with Kathy Ireland who contacted the founders in November of 2017.
The show is distributed worldwide and is an informative, magazine-style program that features the hottest stories, trends and breakthroughs that will educate and motivate viewers. The show was genuinely impressed with Nspires line of health supplements and the Cherish line of products.
Cherish employs a multi-layer system of protection highlighted by the introduction of a negative ion strip that may reduce the pain, inflammation and odor often associated with a womans monthly cycle.
Cherish has been met with rave reviews and media coverage globally thanks to the dryness and comfort demonstrated when compared to the highly advertised pads currently sold today. The testimonials from women have been so powerful that Cherish is now being called the worlds most comfortable sanitary napkin.'
Distributors are encouraged to build their businesses long term through true customers (people who buy your products that are not involved in your company) versus many of the typical internal consumption models that primarily teach growth through the recruitment of your warm market of family, friends and associates.
Nspires focus has already produced more customers than distributors – the ultimate goal of any direct sales company.  Cherish Distributors are refreshed by this approach and have embraced the culture of legacy and true, long-term residual.
In fact, Nspire is pleased that many women throughout the direct sales industry have made Cherish their brand of choice regardless of their company affiliation and with no solicitation from Nspire to join the business opportunity.  .
About Nspire Network
Nspire Networks flagship product, Cherish Premium Sanitary Napkins, comes in 4 varieties (Day, Night, Overnight and Pantyliners) and have become known as the worlds most comfortable sanitary napkins.' The company also offers a variety of all natural dietary supplements and healthy living products.
Nspire was founded in 2016 and is headquartered in Atlanta, GA. For more information visit www.getmycherish.com and www.nowweno.net