Sven And Audrey Goebel Preparing To Launch Enhanzz
April 18, 2018
By Team Business For Home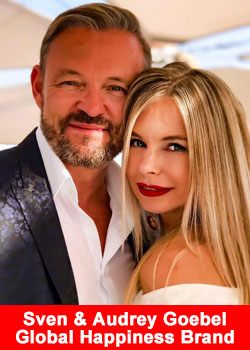 With the launch of a first pre-informative website as well as according Social Media Channels, Audrey Goebel and Sven Goebel have unveiled further details about their company that will pre-launch in the late summer months of this year.
The name of the company was thoroughly chosen as Enhanzz, which reflects their Mission Statement of Empowering People – Enhancing Happiness.
The company is located in the center of Switzerland in the beautiful Canton of Obwalden, right next to the picturesque scenery of the inner-swiss mountains and the beautiful Lake Lucerne. While Happiness is the foundation of the company, Swissness is their core quality feature.
Together with a well-chosen team of Swiss scientists, the Enhanzz team has developed a proprietary, exclusive consumer product line in the beauty sector:

A unique and highly superior Swiss-based Skin Care Line for both male and female, that runs under its highly marketable own brand, with only a slight connection to the company brand.
This move enables the brand to develop a successful life on its own, both online and offline, while the distribution network of Enhanzz independent Brand Partners, Enhanzz Global, has the exclusive marketing rights. The brand has a unique, modern and elite design, some glimpses can be seen through the first initial teaser videos on their website
The company launches with a two-dimensional compensation plan, developed in cooperation with leading industry experts.

It not only rewards building a customer-centric organization the classical way, but also building a customer base only – with separate achievement ranks.
For the first time, people who drive customers only, like Social Media influencers and professionals inside the beauty sector, can still enjoy an extensive achievement recognition, both at and outside company events. Currently, there is a lot of development going on behind the scenes, as they use latest technology including Blockchain to provide utmost accuracy and transparency to their Brand Partners in all back office-related aspects.
Over the coming years, the consumer line will be further extended into other consumer product sectors. In addition to this consumer brand, the company is working on a digital learning platform that is not primarily targeted to educating their sales field, but much more a sophisticated online product for their global customer base. As per Sven Goebel, whos focus has been on personal development throughout the past 15 years, for the first time, they managed to monetize online education in this industry so it becomes a true customer product providing huge value to end consumers.
The company presents itself through its 3 worlds: A revolutionary Business World in the Social Selling field, a world-class, fashionable e-Commerce Consumer World and a digital Education World for personal growth. No doubt that this is a fine selection where anyone can find something of interest and value.
The combination of the three worlds offers without question the perfect platform for a happier life. Consequently, Enhanzz being The Happiness Company, is no lip-service. It is built on a professional and sophisticated plan to truly make their promise come true.
About Enhanzz, The Happiness Company
Enhanzz is a newly formed, European based distribution company from Switzerland. The founders Dr. Sven & Audrey Goebel and Sven & Christina Hennige, heavy weights in both the direct sales and corporate field, believe that it was the right time to launch a modern, tech-oriented, consumer-friendly global company from Europe.
By identifying as Swiss-based, they are making their own commitment to exceptional standards in every aspect of the companys products and operations, offering fashionable, hi-quality, Swiss-made consumer product lines. The company positions itself as a technology based company with a dynamic, consumer-oriented compensation plan including latest technology like Blockchain for utmost transparency.
Their philosophy and value system is anchored in their over many decades proven Happiness model. For more information please visit www.enhanzz.world