Herbalife Nutrition Renews Partnership With Cristiano Ronaldo
May 23, 2018
By Team Business For Home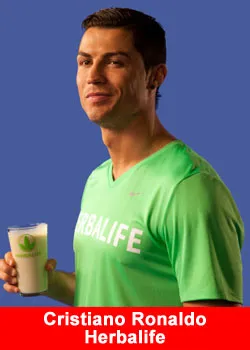 Herbalife Nutrition (NYSE: HLF), today announced the renewal of its multi-year sponsorship with International soccer star, Cristiano Ronaldo, extending their relationship that first began in 2013, to 2021.
Through the sponsorship, Herbalife Nutrition will maintain the exclusive rights to promote Ronaldo in connection with the nutrition, wellness and sports performance products category. 
"Cristiano is in a league of his own as one of the most celebrated athletes of our time. He shares our commitment to nutrition and fitness, and believes in our purpose of making the world healthier and happier which is what makes this partnership so special,"
said Rich Goudis, CEO, Herbalife Nutrition.
In 2018, Cristiano Ronaldo, named the most famous athlete in the world by ESPN, will once again represent his country on the Portuguese football team in the World Cup.  As one of the world's most decorated athletes, Ronaldo has won five Ballon d'Or awards and four European Golden Shoes.
He has won more than 25 trophies in his career, including five league titles, four UEFA Champions League titles and one UEFA European Championship.  Ronaldo also holds the records for most official goals scored in the top five European leagues, the UEFA Champions League, the UEFA European Championship, the FIFA Club World Cup, as well as most goals scored in a UEFA Champions League season. 
"Herbalife Nutrition understands how critical nutrition is for my performance and I enjoyed working with their scientific team to develop CR7 Drive, a sports drink designed to rapidly fuel workouts and enhance hydration,"
said Cristiano Ronaldo.
"It is personally and professionally rewarding to be able to help other athletes around the world understand how nutritious products can help them perform better." 
Herbalife Nutrition sponsored athletes use the Company's products before, during and after training and games. As part of its ongoing commitment to improving sports nutrition and performance in 2013, Herbalife Nutrition launched Herbalife24® CR7 Drive in collaboration with Cristiano Ronaldo, a sports drink designed specifically to meet the nutritional needs of the global soccer legend and benefit athletes of all levels. 
Herbalife Nutrition proudly sponsors more than 190 sporting events, teams and athletes around the world that exemplify the Company's commitment to a healthy, active life, supported by good nutrition.
To learn more about Herbalife Nutrition sponsored athletes, visit https://company.herbalife.com/sponsorships/.
About Herbalife Nutrition Ltd.
Herbalife Nutrition is a global nutrition company whose purpose is to make the world healthier and happier.  The Company has been on a mission for nutrition – changing people's lives with great nutrition products and programs – since 1980. Together with our Herbalife Nutrition independent distributors, we are committed to providing solutions to the worldwide problems of poor nutrition and obesity, an aging population, skyrocketing public healthcare costs and a rise in entrepreneurs of all ages.  Herbalife Nutrition offers high-quality, science-backed products, most of which are produced in Company-operated facilities, one-on-one coaching with an Herbalife Nutrition independent distributor, and a supportive community approach that inspires customers to embrace a healthier, more active lifestyle.
Herbalife Nutrition's targeted nutrition, weight-management, energy and fitness and personal care products are available exclusively to and through its independent distributors in more than 90 countries.  
Through its corporate social responsibility efforts, Herbalife Nutrition supports the Herbalife Family Foundation (HFF) and its Casa Herbalife programs to help bring good nutrition to children in need. Herbalife Nutrition is also proud to sponsor more than 190 world-class athletes, teams and events around the globe, including Cristiano Ronaldo, the LA Galaxy, and numerous Olympic teams.
Herbalife Nutrition has over 8,000 employees worldwide, and its shares are traded on the New York Stock Exchange (NYSE:  HLF) with net sales of approximately $4.4 billion in 2017. To learn more, visit Herbalife.com or IAmHerbalife.com.