Larry & Ronena Crimm Achieve Blue Diamond Rank At PURE
May 5, 2018
By Team Business For Home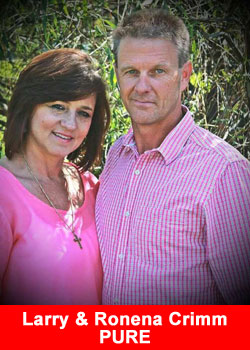 PURE Independent Business Owners (IBOs), Larry and Ronena Crimm, have achieved Blue Diamond Rank through the company's PURE Rank Bonus program, just seven months after achieving Diamond Rank.
The Crimms received a bonus for $12,500 on top of their weekly commissions.*
Larry and Ronena Crimm live in Forest, Mississippi and have been building their PURE business for four years.
"I am very proud to honor the Crimms with this prestigious reward,"
said PURE CEO Daren Hogge.
"They set a high goal and worked hard to achieve it with their team. The admiration for their accomplishments is felt by all of us at PURE."
Larry and Ronena Crimm stated:
"Becoming Blue Diamond is one of the stepping stones to becoming an Ambassador in PURE, our goal.
It shows that it's possible for our team to build this business strong! The integrity behind PURE and the products are way bigger than making money.
PURE is life changing."
The PURE opportunity gives people the chance to earn weekly residual income. In addition, through the PURE Rank Bonus, IBOs receive bonuses and incentives.
Beginning at the rank of Platinum Director, awards through the program range from $1,000 USD all the way to an amazing $250,000 USD.** To date, PURE's total payout through the new program is over a million dollars.
About PURE
PURE: People United Reaching Everyone is a leading innovator in health and wellness products. PURE is dedicated to delivering Whole Health with high-quality products for physical health, opportunity for financial health, relationships for personal health and social impact for philanthropic health. PURE is a global company with offices in the U.S., Taiwan and Korea with headquarters in Frisco, Texas.
For more information on the products or business opportunity, visit www.livepure.com.
*The PURE Rank Bonus amount listed is the maximum bonus potential for the rank achieved. All executive ranks and above are paid in installments provided certain thresholds are met. See the PURE Rank Bonus Promotion Terms and Conditions for qualification, maximum bonus rank and payout details. For more information on the PURE Rank Bonus, visit livepure.com/PRB.