Plexus Worldwide Achieves $562 Million In Revenue In 2017
May 7, 2018
By Team Business For Home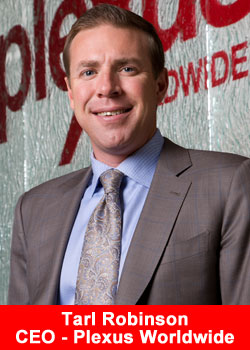 Plexus Worldwide (Plexus), a worldwide, leading direct-selling health and wellness company focused on health and happiness, was recognized by Direct Selling News as the #39 globally on its List of Top Revenue Generating Direct Selling Companies. 
The ranking is based on 2017 revenue reported by each company, with Plexus coming in at $562 million.
The DSN Global 100 is a collective effort to show the impact and potential of the $184 billion direct selling channel. The 2018 ranking, unveiled online at DirectSellingNews.com and featured in the June issue of Direct Selling News (DSN) magazine, represents aggregate revenue of more than $82 billion from companies based in 17 countries.  The DSN ranking shows growth for Plexus, which increased revenue by $30 million over the previous year while maintaining its ranking.
In April, DSN also named Plexus one of the Best Places to Work' in the industry. Only a dozen other direct selling companies earned this recognition, and all were considered equal honorees and recognized collectively.
We are so proud of all our Ambassadors and corporate team members who work so hard to make Plexus an organization that proves itself year after year in a crowded direct selling industry,'
said Tarl Robinson, CEO and Founder of Plexus Worldwide.
Weve come so far, as it was just eight years ago that Plexus had revenues of less than one million. Today we look towards building a strong future with continued growth and expansion to international markets.
Its a phenomenal honor to rank on the DSN Global 100 list once again and be named one of DSNs Best Places to Work' for the second year in a row based on employee feedback,'
said Alec Clark, President and Founder of Plexus Worldwide.
Plexus is built on the strength of its employees and Ambassadors, and these recognitions are a true reflection of their talent and hard work.'
Inclusion on the Global 100 list has become a point of much-deserved pride for direct selling companies', said John Fleming, Publisher of Direct Selling News. The DSN Global 100 list offers a unique perspective on the global impact of the industry on economic and social realms.'
The annual celebration honoring the Global 100 companies took place on May 2 in Plano, Texas.
About Plexus Worldwide:
Plexus Worldwide LLC offers health and wellness products that enable people to improve their lives and well-being. With more than 700,000 independent business owners (Ambassadors') worldwide, Plexus is among the worlds 40 largest direct sales companies and has often been featured on the Inc. 5000 list of fastest-growing companies.
The combination of Plexus products and opportunities help individuals to meet their health-wellness and financial goals.  For more information visit www.plexusworldwide.com.