WorldVentures Event Attracts 6,500 People
May 1, 2018
By Team Business For Home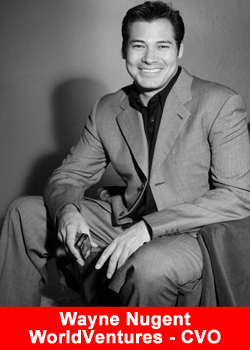 WorldVenturesâ"¢, the leading direct seller of global travel and leisure club memberships, recently drew more than 6,500 attendees to Kansas City, Missouri, for UNITED, the companys annual global training summit.
UNITED brings WorldVentures Independent Representatives together from around the world for unparalleled business training and to celebrate strength and diversity, and build team synergy and collaboration.
In his keynote address, WorldVentures Holdings Founder and Chief Visionary Officer Wayne Nugent communicated his plan for the companys trajectory and spoke about how the longevity of the company has aligned with his vision.
As WorldVentures continues to grow, the journey for everyone involved will get more exciting.
We want to be a legacy company,'
Nugent said to the Reps.
And weve been taking big steps toward that goal. Follow our lead and build the momentum in your life with your team. This is the weekend when you go from good to great.'
Highlights of the event include:
Chief Executive Officer Josh Paine delivered a powerful and compelling keynote, detailing impactful updates in 2018, providing a glimpse into where the company is going and what made the last year so monumental. I promise you our future is bright,' Josh said. We have the brightest future of any company Ive had the privilege of serving at. We got this! I love you WorldVentures family. Were going to do amazing things together. Get ready for the best year in company history.'
In his keynote, WorldVentures Holdings President Eddie Head focused on opportunity expansion, describing the new and improved sales tools and business resources being made available to Reps in the coming year.
Nadine Psareas won the peer-nominated Rudy Award. The first Rep to win, Nadines actions this past year (and before) have made her a true 360-degree leader and deserving of the award.
WorldVentures Foundationâ"¢ celebrated its eighth anniversary by focusing on volunteer experiences and finding new ways to embrace the communitys Heart to Serve. The foundation looks forward to offering 40 VolunTours in 2018 after impacting the lives of 51,000 children worldwide in 2017.
In addition to providing incomparable training for Reps, WorldVentures events positively impact local economies through increased hotel, dining and activity spending. The 6,500-plus UNITED attendees stayed an average of three nights in Kansas City for the event. According to Budget Your Trip, visitors to Kansas City spend an average of $129 per person, per day, making the overall financial contribution of attendees to the local economy around $2.5 million during the event weekend.
WorldVentures Foundation, the companys charity of choice, also plays a part in helping underserved children in local communities by hosting a Volunteer Day during the event. During UNITED, the foundations 100 volunteers worked with the Boys & Girls Clubs of Greater Kansas City to paint the main areas of their Thornberry Unit location.
About WorldVentures
WorldVentures is a privately held company based in Plano, Texas, that sells travel and lifestyle community memberships providing a diverse set of products and experiences. The companys goal is to help Independent Representatives, DreamTripsâ"¢ Members and employees achieve more fun, freedom and fulfillment in their lives. WorldVentures uses the direct sales model to go to market with active Representatives and members worldwide. For more information, visit worldventures.com.
About WorldVentures Foundation
WorldVentures Foundation is a U.S. 501(c)3 nonprofit organization with a mission to create positive change in the lives of children all over the world. The foundation supports sustainable programs that promote childrens health, happiness, safety and development. Represented by the Heart to Serve logo and tagline, the foundations mission is accomplished through four main ways: VolunTours, Volunteer Days, Dream Courtsâ"¢ and fundraising. Learn more at worldventuresfoundation.org.
About the Rudy Award
The Rudy Award is named after Rudy Ruettiger, a football player for the University of Notre Dame and inspiration for the 1993 movie Rudy.' He overcame obstacles to become an inspiration to millions, including WorldVentures Founder Wayne Nugent. Wayne was so moved by the story that he purchased Ruettigers helmet and jersey as a symbol for the entire company. The Rudy Award is based on nominations given throughout the year to individuals who embody character, courage, contribution and commitment. Six times a year, one person from the group of nominees will be selected. At the end of the year, one of those six people will be selected to receive the Rudy Award.