11,000 Reps Attend Plexus Worldwide 2018 Convention
June 15, 2018
By Team Business For Home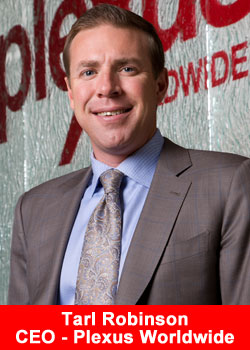 With a sold out crowd of more than 11,000 Ambassadors (independent sales representatives, Plexus Worldwide® (Plexus), a worldwide, leading direct-selling health and wellness company focused on health and happiness, recently completed its Plexus 2018 Legacy Convention, held June 6 '" 9 at the Orlando World Center Marriott.
The Legacy theme was based on the company reaching 10 years in business, the legacy individual Ambassadors are creating for themselves through their home-based businesses, and the legacy the company is building collectively as it continues to grow.
Were very humbled to have reached this pivotal 10-year milestone for Plexus,'
said Tarl Robinson, CEO and Founder of Plexus.
We wanted Plexus annual Convention to celebrate the growth and successes of the past, while also focusing on the growth and successes we know will be there for our Ambassadors, employees and company in the future.'
Among the highlights of the Convention, Plexus announced three new products which are now available for purchase.
Joyome is Plexus revolutionary new skincare line that features a patent-pending Microbiome Balancing Complex, a unique prebiotic blend that works to rebalance skins natural microbes, and 11 actives that fight visible signs of aging. Click to view full press release on Joyome.
Plexus Slim® Hunger Controlâ"¢ empowers people to take back control of their diet and lose weight.  Slim Hunger Control is a clinically demonstrated weight management solution that helps you feel full longer by reducing hunger and the desire to overeat.  Click to view full press release on Slim HC.
Major Donation and Initiative Announcement:
Immediately after the launch of Lean, Plexus surprised Ambassadors by presenting a $100,000 donation to Feeding America, the nations largest organization dedicated to fighting domestic hunger through a network of food banks.
The company then announced its new Nourish Oneâ"¢ Initiative which will provide one meal for a child or family in need for every serving sold of the new Plexus Leanâ"¢.
As a company we believe in helping our Ambassadors and employees build a legacy not only for families, but for their communities,'
said Alec Clark, President and Founder of Plexus.
Hunger and food insecurity is a real concern for thousands of families.  Were confident this $100,000 donation to Feeding America, combined with our commitment to donate an additional meal for each Plexus Lean shake sold, will have a real impact within this often-unnoticed community need.' 
Training, Keynote Speakers, and Headline Entertainment:
In addition to the new product and charitable announcements, Plexus 2018 Legacy Convention inspired, educated, and energized Ambassadors through valuable training sessions, collaboration and keynotes to help attendees grow their home-based businesses.
Keynote speakers included John Maxwell, world-renowned author and motivational speaker. The events emcee was Victor Antonio, author of 13 books and host of Spike TVs Life or Debt.'
In addition to Ambassador training sessions, special events included a winners dinner, dessert reception and the companys largest-ever pop-up Plexus Store.  Entertainment was highlighted by a private concert with Grammy award-winning musician, Darius Rucker, who exploded onto the country music scene following a successful stint with Hootie and the Blowfish.
Ambassadors also heard from Plexus leaders andlearned about the latest tools to help them connect with one another, share their experiences and grow their home businesses.
Robinson added, We want to create a company that our Ambassadors can look back on 10, 15, 20 years from now and feel proud of who we are and who we continue to build ourselves to be. Based on the response the company received from Convention attendees, Plexus is definitely on its way to become the legacy company it plans to be.'
About Plexus Worldwide:
Plexus Worldwide LLC offers health and wellness products that enable people to improve their lives and well-being. With more than 700,000 independent business owners (Ambassadors') worldwide, Plexus is among the worlds 40 largest direct sales companies and has often been featured on the Inc. 5000 list of fastest-growing companies.
The combination of Plexus products and opportunities help individuals to meet their health-wellness and financial goals.  For more information, visit www.plexusworldwide.com.