Sabra McCraw Earns Over $100,000 In Monthly Commissions With TruVision Health
June 29, 2018
By Team Business For Home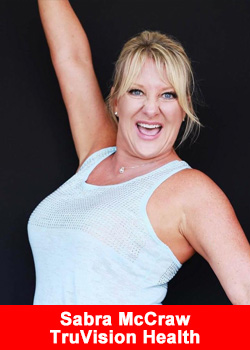 Sabra McCraw, a top-earner and 7 starDirector for TruVision Health, has reached the monumental achievement of earning over $100,000 in monthly commissions with TruVision Health.
As a top leader in the company, she has risen in ranks quickly while helping her large team grow and succeed along the way. Sabra began her career in the beauty and music industries but found her true passion in network marketing.
She attributes her success to maintaining a positive outlook no matter the situation.
Its how you react to things. Bad things are going to happen, but being miserable over it is optional.

You dont have to let it ruin your whole day. Pain is guaranteed but misery is optional.
Since joining TruVision Health, she has risen to the top in a short amount of time due to a positive no-quit attitude and hard work. Sabra understands that building a successful business is all about relationships and helping people which she exemplifies as a true leader.
About TruVision Health
TruVision Health is becoming the global leader in premium health products. Beginning with the companies flag ship products designed to support and maintain healthy blood chemistry, TruVision Health is committed to designing cutting edge products that are effective. TruVision is becoming a world leader for premium health products.
To participate in TruVisions global product sampling experience please send an email to support(at)truvisionhealth(dot)com and you will be connected with a local Associate in your area.
For those living in the United States and wanting to learn more about TruVision Healths full line of products visit TruVisionhealth.com.