Record High Retail Customer Acquisition Numbers For Opulence Global
July 27, 2018
By Team Business For Home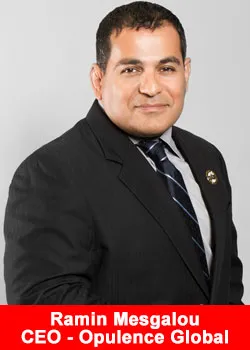 Opulence Global, formerly known as Global Wealth Trade (GWT) is founded by CEO Ramin Mesgalou and has its headquarters in Toronto, Canada.
I had the pleasure to sit down with Ramin and talked about the transition.
Ramin, how a rebrand can change everything so quickly.  You created one of the most aggressive compensation plans in the industry with GWT but now you are all about customer acquisitions. What happened?
The Fountain Of Life Norwegian Spruce super extract happened. You are correct that when it comes to comp plans I am very aggressive.
When I was on the filed comp plan was everything and I  built 4 multi-million dollars distributorships before I launched Opulence Global but FOL changed everything.
In my almost 30 years in MLM, I have never seen a health product that mesmerizes its users so much that the biggest recruiters in our company are NOT the Advisers, they are our VIP Shoppers who recommend other VIP Shoppers (Retail customers).
I saw a staggering number of 71% of your FOL sales come directly from Retail customers that you call VIP Shoppers?
Correct Ted .. Insane isnt it? So although we still have the most aggressive 4 million dollars a year compensation plan with unique industry first perks and bonuses, we are a very much retailing company now, which we were not before even with fashion and accessories.
Even my top millionaires now find themselves with a customer list because VIP Shoppers recommend other potential buyers automatically.
How does the growth by retail customers compare to growth by recruiting distributors or you call them advisers?
You need both customers and distributors of course. Building by customers is a slower approach but its solid and long term for lifelong residual income.
So Ramin, I saw your video at the McLaren dealership building a brand new 720S supercar and you did it all through MLM. What is your message to all MLMers who are still chasing this dream?
One word '¦. LONGIVITY '¦. I spent 30 years in MLM as a high performing distributor and now as a corporate executive.  I have had access to lifes full menu since age of 25.
Along the way I have been fortunate to help countless others to become millionaires through the MLM platform and help them have access to lifes full menu. But it takes time and the key to longevity is managing expectation' that you expect the emotional roller-coaster and will ride though it until you have access to lifes full menu  that 99% of the population will never see.
So investing the next 30 years in MLM can be much more lucrative than investing the next 30 years in a job?
Absolutely without a doubt. So MLM is no longer a back up plan, your job is while your main get rich MLM plan builds.
Thank you Ramin, always great to receive the Forensic Networker philosophies.
To find out more about The Fountain Of Life and Opulence Global go to www.myopulence.com