Rodolfo Rodríguez And Esteban Merizalde Achieve Double President Rank At World Global Network
July 6, 2018
By Team Business For Home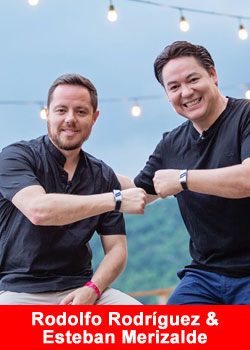 Rodolfo Rodríguez and Esteban Merizalde break a new record together with their team in 7 days with World Global Network, reaching the position of Double Presidents, generating four Diamonds, one Double Diamond and one Grand Diamond.
Rodolfo and Esteban came together 5 years ago to build a powerful business philosophy within the network marketing industry. Both leaders have more than 25 years of experience in network marketing.
Together they multiply their skills and have demonstrated with facts that when they decide to place a company on the map, they do it in style. Rodolfo and Esteban, the founders of "WorldDreamTeam", mention:
"Actually, our success is based on teamwork. We have a great team of leaders and entrepreneurs, with whom we create the right environment and aim at very clear goals.

When we make a decision, we don't bet on what will happen, we make things happen and we do it as a team.
We have decided to join a first class leadership and people with great experience, such as Chad and Nattida Chong, one of the most powerful partners in the industry right now, with organizations on 4 continents.
When you know what you want, things align. World Global Network was ready to launch the Latin American market, and we are ready to support expansion within this new challenge in our professional career."
Why World Global Network?
"We were looking for a company that would have a sustainable basis for our team. "They are creators of such a category that hadn't been seen in MLM. Technology and well-being, network marketing and e-commerce at the same time. We know it will be the next trillion dollar company and we are here to support that."
Corporate leadership
WGN offers everything a networker needs: customer service, a payment platform and commission charges. It's a public company and it has 15 physical offices around the world and some commercial alliances, such as DHL and FedEx for international product delivery in 195 countries, then Toshiba and many more.
We see a complete corporate triple AAA, starting with the CEO Fabio Galdi, with more than 20 years in the field of technology and communication, Alessandro Senatore in charge of operations and the genius behind the compensation plan, and Antonio de Rosa, to whom we owe this spectacular image and product design."
The term "Sensory Technology with artificial intelligence" is little known by people. However, it is a new trend that, according to Forbes, will surpass 35 billion by 2020. Its product was recognized as number 1 in direct sales in 2017.
Leadership and the moment.
"When it comes to building a team, there can be no better option than joining those who have the highest income in the world. The WGN leaders are among the top positions in worldwide revenues in the entire industry thanks to a high quality system of training and leadership.
The company has a great growth worldwide with its new product and its new apps. And for all the Latin Americans, since May 15, World Global Network formally announced its arrival on the continent.
The big opportunities arise when you develop them from scratch, and that's why it's the best time for Latin America.
We know that every challenge is an opportunity to grow. We know how to work hard and work smart in this industry, and we want to congratulate and thank our team for their professionalism and leadership, to the entire World Global Network corporate team for making us feel part of the family, the Puranaputra family. To Chad and Natida Chong for that example of leadership. We know that together, we will create a great story, so we welcome to this team anyone who is willing to transform their lives."
While Rodolfo Rodríguez and Esteban Merizalde, from Mexico and Ecuador respectively, reach the rank of Double President, the leaders of their team that have excelled in reaching high ranks in a short period of time have been:
María José Núñez and Diego Asmal, from Ecuador, as Gran Diamond; Sebastian Meléndez, from Mexico, as Double Diamond; Ana Garza Eckermann and Rodolfo Peregrina Marroquín, from Mexico, as Diamond; Alvaro Viteri, from Ecuador, as Diamond.
Adriana and Francisco Vázquez, from the United States, as Diamond and Carlos Merizalde from Ecuador, as Diamond.
About World Global Network
With its headquarters in Singapore and its US office in Miami, Florida, and Provo, Utah, USA, World Global Network stands apart as a fast-growing company and a leader in the Network Marketing Industry. In its 10 offices distributed across the globe, WGN employs the brightest minds, the best professionals and motivated personnel to drive its business and create sustainable and valuable opportunities for its distributors worldwide.
Using innovative products and a proven, direct selling business model, Word Global Network helps its distributors around the world to transform their lives, and their familys livelihoods. For more information please visit www.worldgn.com.
SPANISH
Rodolfo Rodríguez y Esteban Merizalde rompen un nuevo récord junto con su equipo en 7 días con World Global Network alcanzando la posición de Doble Presidentes, generando 4 Diamantes, 1 Doble Diamante y 1 Gran Diamante.
Rodolfo y Esteban se unieron para construir una poderosa filosofía empresarial dentro del network marketing desde hace 5 años.  Ambos líderes suman más de 25 años de experiencia en el network marketing, juntos multiplican sus habilidades y han demostrado con hechos que cuando deciden poner en el mapa una compañía lo hacen en grande. Rodolfo y Esteban fundadores del equipo World Dream Team' mencionan:
En realidad el éxito de basa en el trabajo en equipo, tenemos un gran equipo de líderes y empresarios junto a nosotros, con quienes creamos el ambiente adecuado y trabajamos por metas muy claras, cuando tomamos una decisión no jugamos a ver qué pasa, hacemos que las cosas pasen y lo hacemos en equipo.
Hemos decidido unirnos a un liderazgo de primer nivel y a personas con gran trayectoria como Chad y Nattida Chong, una de las parejas más poderosas en la industria en estos momentos, con organizaciones en 4 continentes.
Cuando sabes lo que quieres, las cosas se alinean, World Global Network estaba lista para lanzar el mercado latino y nosotros listos para apoyar la expansión en este nuevo reto en nuestra carrera profesional.'
Porque Wor(l)d?
Buscábamos una compañía que tuviera una base sustentable para nuestro equipo. Son creadores de una categoría que no se había visto en el MLM, tecnología con bienestar, network marketing y comercio electrónico en una mima oportunidad, sabemos que será la siguiente empresa del billón de dólares y estamos aquí para apoyar a que eso suceda.'
Liderazgo corporativo
WGN cuenta con todo lo que un networker, necesita, atención al cliente, plataforma de pago y cobros de comisiones, compañía pública, cuenta con 15 oficinas físicas alrededor del mundo y algunas alianzas comerciales cómo DHL y FedEx para el modelo internacional de envió de producto puerta a puerta en 195 países, Toshiba y muchas más.
Vemos un corporativo triple AAA en todos los sentidos, empezando por el CEO Fabio Galdi con más de 20 años en el campo de la tecnología y comunicación, Alessandro Senatore encargado de las operaciones y el genio detrás del plan de compensación y Antonio de Rosa a quien le debemos esta espectacular imagen y diseño del producto'.
El termino de Tecnología Sensorial con inteligencia artificial' es poco conocido por la gente sin embargo es la nueva tendencia que según Forbes sobrepasará los 35 mil millones para el 2020. Su producto fue reconocido como No 1 en venta directa en el 2017.
Liderazgo y momento.
Cuando se trata de hacer equipo, no puede haber mejor equipo que unirse al equipo que tiene a las personas con mayores ingresos del mundo. Los líderes de WGN están entre las principales posiciones en ingresos a nivel mundial de toda la industria gracias a un sistema de formación y liderazgo de primer nivel.
La empresa cuenta con un gran crecimiento a nivel mundial, su nuevo producto, sus nuevas apps y para todos los Latinos desde el pasado 15 mayo World Global Network formalmente anunció la llegada a Latinoamérica.
Las oportunidades grandes son cuando las encuentras pequeñas y por eso es el mejor momento para Latinoamérica.
Sabemos que todo desafío es una oportunidad para crecer, sabemos hacer el trabajo duro y el trabajo inteligente de esta industria, queremos felicitar y agradecer a todo nuestro equipo por su profesionalismo y liderazgo, a todo el corporativo de World Global Network por hacernos sentir parte de la familia, a la familia Puranaputra, Chad y Natida Chong por ese ejemplo de liderazgo. Sabemos que juntos vamos a construir una gran historia y le damos la bienvenida a este equipo a quien esté listo para transformar su vida.'
Mientras que Rodolfo Rodríguez y Esteban Merizalde, de México y Ecuador respectivamente, alcanzan el rango de Doble Presidente, los líderes de su equipo que más han destacado en alcanzar altos rangos en un corto periodo de tiempo han sido:
María José Núñez y Diego Asmal, de Ecuador, como Gran Diamond; Sebastian Meléndez, de México, como Double Diamond; Ana Garza Eckermann y Rodolfo Peregrina Marroquín, de México, como Diamond; Alvaro Viteri, de Ecuador, como Diamond. Adriana y Francisco Vázquez, de Estados Unidos, como Diamond y Carlos Merizalde de Ecuador, como Diamond.