Seacret Direct Aquires SevenPoint2
July 27, 2018
By Team Business For Home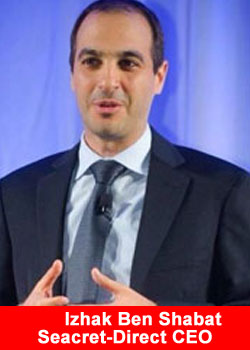 Seacret Direct, a luxury skincare and wellness brand powered by unique mineral combinations found only in the Dead Sea, has recently acquired SevenPoint2, an industry leader in developing plant-based alkaline products. Financial terms of the transaction were not disclosed.
Founded in 2011, SevenPoint2 is a direct selling company that offers a line of nutritional health products designed to promote a healthy alkaline lifestyle.
Both SevenPoint2 and Seacret share a vision to deliver simple and effective product solutions that empower people to live better, healthier lives.
Seacret Founder and CEO Izhak Ben Shabat believes the expansion is perfectly aligned with the companys mission to drive dramatic growth through sales of a comprehensive line of products that provide powerful results both inside and out.
We are so proud and so happy to welcome this new partnership,'
said Ben Shabat.
With the acquisition of SevenPoint2, were growing our value by enhancing what is already one of the most comprehensive product lines in the wellness industry.'
Dr. Howard Cohn, Co-founder of SevenPoint2, will work closely with the Seacret team to grow the nutrition line, increase presence in the marketplace and continue developing innovative natural, organic solutions. Dr. Cohn agreed to bring his vast experience in the holistic wellness industry to the company as Director of Product Development and Chairman of Seacrets Science Advisory Board.
Im thrilled to join forces with Seacret. Its no coincidence that after signing the deal, Seacret hit No. 72 on the DSN Global 100,'
said Dr. Cohn.
It comes at a critical time when customers around the world are becoming more concerned with their health and wellbeing.
And while our core products will remain unchanged, this acquisition connects the complementary capabilities of both companies to support consumers in achieving wellness from the inside out.'
With almost three decades of experience in the natural health care field, Dr. Cohn has spent more than 25 years in the direct sales and network marketing industry as a product formulator and sales trainer, and has been extensively involved in the product development and testing of thousands of nutritional products.
He has taught internationally on the subjects of diet, nutrition, and natural and alternative health, and is the Founder of the Cohn Health Institute where he continues to actively practice comprehensive holistic healthcare.
The impact of this transaction on Seacrets consolidated financial results for the fiscal year ending December 31, 2018, is expected to be considerable. More information regarding the acquisition and the companys growth strategy will be announced at its upcoming North American annual convention, RISE, in Phoenix July 27 to July 30, 2018.
ABOUT SEACRET DIRECT
Founded in 2005, Seacretâ"¢ Direct manufactures and sells high-end skincare products that combine Dead Sea minerals and other nutrients with new technologies and scientific breakthroughs. Manufactured in Israel and headquartered in Phoenix, Arizona, Seacret products offer mineral combinations found only in the Dead Sea.
Seacret products were already being sold in many countries before the company adopted the direct selling business model in 2011, and since then continues to be recognized on the DSN Global 100 list for its global impact of the industry on economic and social realms.
Learn more at www.seacretdirect.com.