Top Earner John Sachtouras Joins Jeunesse
July 4, 2018
By Team Business For Home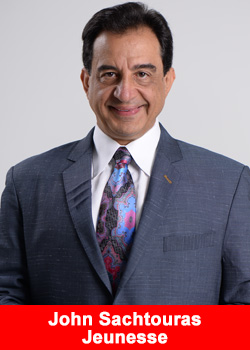 Network marketing professional and industry Top Earner John Sachtouras has joined forces with Jeunesse Global. 
John Sachtouras has achieved one of the most significant growths in the history of network marketing in his previous company, since he joined back in June of 2009, and was one of the most important leader and a major player in the global growth of the company.
His organization generated well over $400 million dollars in total revenues with more than 300,000 people all over the globe.
 John's strategies and creative marketing ideas helped several of his team members to grow a successful large organization that generated for them commissions and bonuses of well over one million dollars within 12-month period. John was one of only 4 people in his previous company to earn almost $5 million dollars in income within 12-month period.
He is a Greek-American businessperson, a world-renowned public speaker, mentor, coach, and one of the most of influential leaders in the industry of network marketing. He has written several articles on business and has been interviewed by many TV channels around the world. He is a multi-lingual marketing strategist who has more than three decades of solid and diverse professional experience in the areas of business development and leadership.
He has trained hundreds of thousands of people on how to build a successful network marketing business and has helped many people improve and strengthen their personal and leadership skills with his specialized mentorship training programs.
He has conducted many lectures at universities around the world to share his knowledge on how to better prepare for the future. He has received high academic recognition for his dedication and contribution to universities and their students.
Johns success is due to incredible persistence, charisma and sincere desire to help people succeed. His laser-like focus, years of diligent work and ongoing self-development, along with total dedication have resulted in an evidenced strong leadership that delivered massive and excellent benefits to all ethnic groups, especially in his Hispanic community.
John leaves these words to his team and the people in the industry of MLM:
If you dont make a decision to start developing your own vision about your future, other people and circumstances will force you to be part of their dream and vision.  
John is aiming to achieve his next big dream of going beyond a billion with Jeunesse and will continue to press onto new and higher goals in the future.
With his passion for MLM, John ensures us that he will continue to serve Network Marketing and business professionals. This year he will also release his exclusive autobiography, which includes great information on what it takes to succeed and more.
OTICIAS DE ÚLTIMA HORA
 Un profesional de mercadeo en red y un legado de la industria, el Sr. John Sachtouras unió fuerzas oficialmente con Jeunesse Global, LLC., para crear una de las organizaciones más emocionantes y poderosas en la compañía, con su visión renovada Beyond-A-Billion … Never Give Up!  (Más allá de un billón… ¡nunca te rindas!)
John Sachtouras es un empresario griego-estadounidense, un orador público de renombre, mentor, entrenador y uno de los líderes más influyentes en la industria del mercadeo en red. Ha escrito varios artículos sobre negocios y ha sido entrevistado por muchos canales de televisión alrededor del mundo.
Es un estratega de marketing, multilingüe, que cuenta con más de tres décadas de experiencia profesional sólida y diversa en las áreas de desarrollo empresarial y liderazgo.
John Sachtouras ha logrado uno de los crecimientos más importantes en la historia del mercadeo en red en su empresa anterior, desde junio de 2009 y fue uno de los líderes más importantes y una indiscutible clave para el crecimiento global de la empresa.
Su organización generó más de $400 millones de dólares en ingresos totales con 300 mil personas en todas las regiones del mundo.  Las estrategias de John y sus ideas creativas de marketing, ayudaron a varios de los miembros de su equipo a desarrollar una gran organización exitosa, que les generó comisiones y bonificaciones de más de un millón de dólares en un período de 12 meses.  John fue una de las 4 personas en su empresa anterior que ganó aproximadamente $5 millones de dólares en ingresos económicos, dentro de un período de 12 meses.
Ha capacitado a cientos de miles de personas en cómo construir un exitoso negocio de mercadeo en red y ha ayudado a muchas personas a mejorar y fortalecer sus habilidades personales y de liderazgo con sus programas especializados de capacitación de mentores.  Ha impartido muchas conferencias en universidades de todo el mundo para compartir su conocimiento en cómo prepararse mejor para el futuro cambiante. Ha recibido altos reconocimientos académicos por su dedicación y contribución a las universidades y sus estudiantes.
El éxito de John se debe a su increíble persistencia, carisma y deseo sincero de ayudar a las personas a tener éxito. Su enfoque similar a un láser, años de trabajo diligente y autodesarrollo continúo, junto a su dedicación total, han dado como resultado un sólido liderazgo, demostrado con resultados y excelentes beneficios a todos los grupos étnicos, especialmente en su comunidad hispana en varias partes del mundo.
John deja estas palabras a su equipo y a las personas en la industria de MLM: Si no tomas la decisión de comenzar a desarrollar tu propia visión sobre tu futuro, otras personas y circunstancias te obligarán a ser parte de su sueño y visión.
John aspira a alcanzar su próximo gran sueño: ir más allá del billón con Jeunesse y continuará presionando hacia nuevos y más altos objetivos en el futuro.
Con su pasión por MLM, John nos asegura que continuará sirviendo al Mercadeo en Red y a los profesionales de negocios que buscan un cambio de vida.
 About Jeunesse
Jeunesse is a global direct selling company with a mission to positively impact the world by helping people look and feel young, while empowering them to unleash their potential.
The companys exclusive skin care and nutritional products form a comprehensive Youth Enhancement System. With multilingual customer service, back office support and a global enrollment system, Jeunesse utilizes a cutting-edge platform to share innovative products, training and support through 32 fully operational offices to markets in more than 140 countries.