Asma Ishaq, CEO Of Modere, Elected To Direct Selling Education Foundation
August 9, 2018
By Team Business For Home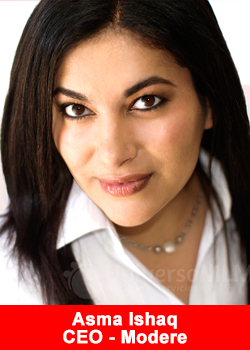 Modere today announced that Chief Executive Officer (CEO) Asma Ishaq has been elected to the Board of Directors of the Direct Selling Education Foundation (DSEF).
Joseph N. Mariano, president of the Direct Selling Association and sitting member of the DSEF, said of Ishaq's election, "We welcome Asma to the DSEF Board. I am confident her talents as a direct selling corporate leader will be great assets as the Foundation pursues its mission of mainstreaming understanding of the channel and reaching more than 60,000 students per year with an accurate understanding of direct selling."
An active leader in the space, Ishaq was appointed CEO of Modere in January of this year after leading her company, Jusuru International, Inc., through its acquisition by Modere in February 2017. Previously, Ishaq served on the Board of Directors of the Direct Selling Association, the parent industry association of the DSEF.
"As creative occupations are the largest and fastest-growing segments of the freelance economy, it is important that direct selling is recognized in its deserved context.
I am honored to have the opportunity to serve on the board of the DSEF and look forward to working with the other board members to help educate tomorrow's entrepreneurs and industry captains on the merits and potential of this distribution channel,"
said Ishaq.
Ishaq has served the nutrition industry as a committee member of the Council for Responsible Nutrition and the personal care industry as an advisory board member of the Fragrance Creators Association (formerly known as the International Fragrance Association of North America(IFRANA)). Also a celebrated speaker, Ishaq has spoken at dozens of industry conferences, such as the World Collagen Conference and NutriCosmetics Summit, and on numerous television and radio programs.
As of earlier this month, Ishaq was named one of three finalists for the 2018 NutraIngredients NutraChampion-USA award, which recognizes those who have left a lasting impression by going above and beyond for the betterment of the nutritional industry. She earned her B.A. from the University of California, Berkeley and, as a Ben F. Love scholar, received a dual M.B.A. in finance and marketing from Rice University.
About the Direct Selling Education Foundation (DSEF)
The DSEF  is a 501(c) (3) organization whose purpose is to engage, equip and empower educators to provide students with an accurate understanding of the direct selling industry as a powerful go-to-market strategy, distribution model and entrepreneurial option, and to teach the correct principles of direct selling.
To further support their overall mission, DSEF partners with professors and educators, primarily at the collegiate level, who are interested in including direct selling as a topic in their various curricula. The DSEF provides teaching content for educators and classrooms alike to facilitate this process. The foundation also funds and sponsors direct selling-related research, often conducted by DSEF Fellows. They host campus events throughout the year, which include classroom visits by direct selling company executives.
About Modere
Modere offers a category-leading portfolio of live clean lifestyle essentials including beauty and personal care, health and wellness, and household products that are equal parts safe, high-performing and scientifically designed. We believe modern health involves pure nutrition, a clean environment and safe ingredients across all our product categories.
Modere brings a holistic, live clean approach to well-being, and our products reflect a commitment to excellence and innovation with tested formulas proven around the globe for 30 years. The recipient of multiple third-party validations, our line includes products that are EPA Safer Choice-approved, EWG Verifiedâ"¢, NSF Certified and gray-water safe. The company is a proud supporter of Vitamin Angels®