Avon Appoints Marco Brandolini New General Manager to Drive Growth
August 15, 2018
By Nicole Dunkley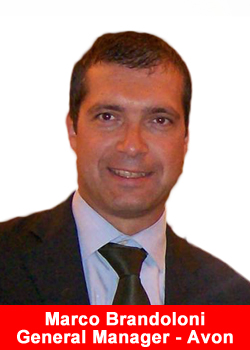 Avon Products Inc., (NYSE: AVP), a global leader in direct selling of beauty, recently announced that Marco Brandolini has been appointed VP and General Manager, Italy and the Mediterranean, (IMED), effective 1st September 2018.
Marco Brandolini is an accomplished leader with significant General Management experience in the direct selling industry. During his 13 years at Herbalife Nutrition, where he most recently served as EMEA VP of Sales & Marketing, Member Services and Technology, he has proven a track record of turning around sales performance and delivering growth (accelerating to 7.5% year on year in Q1 2018), through multi-channels, while increasing distributor retention through strong customer service.
He was responsible for designing the regional marketing and strategy planning and maintaining relationships with key distributors. Mr. Brandolini successfully led Herbalife's key premium products and marketing tools launch, leveraging consumer and market research and activated the company's distributors' technology platform, all of which contributed to a more profitable business and a wider adoption of Herbalife products
"We are pleased to welcome Marco to the leadership team at Avon," said Miguel Fernandez, Global President. "Marco is a seasoned strategic, result-driven leader with a history of building high-performing direct selling businesses in Europe. Under his new leadership we look forward to driving growth across our European businesses."
"This is an exciting time for Avon, and I am eager to join the team," said Mr. Brandolini. "What drew me to Avon, and what differentiates the Company from its peers, is its unique commitment to broadening its relevance and presence through engaging women with economic empowerment."
" I believe in Avon's ability to drive value by best understanding the desires of its customers, empowering its representatives through its evolving digital technologies, and remaining focused on its commitment to delivering quality on-trend beauty products to customers. I look forward to working alongside the rest of Avon's leadership team to build on these initiatives and drive growth throughout the Italian and Mediterranean region."
Prior to joining Herbalife, he held sales operations and management positions at the British American Tobacco Group, Ente Tabacchi Italiani and Fiat Iveco. Mr. Brandolini holds a Mechanical Engineering degree from the Polytechnic of Naples, Italy.  In his new position, Mr. Brandolini will be responsible for Avon's IMED business, which includes operations in Italy, Spain, Portugal, and Greece.
About Avon Products, Inc.
Avon is the Company that for 130 years has proudly stood for beauty, innovation, optimism and, above all, for women. Avon products include well-recognized and beloved brands such as ANEW, Avon Color, Avon Care, Skin-So-Soft, and Advance Techniques sold through approximately 6 million active independent Avon Sales Representatives. Learn more about Avon and its products at www.avoncompany.com.