Mehdi Moustaouis Team Surpasses 30,000 Members With OMNIA
August 26, 2018
By Team Business For Home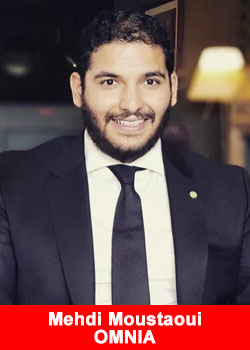 Mehdi Moustaoui from France has built his OMNIA business to over 30,000 IBOs worldwide in under 12 months. In the first 90 days he achieved Emerald entirely online from morning to night Zoom meetings out of a Starbucks.
At only 27 years old, with just 4 years experience in the industry Mehdi has seen an explosive growth in his network and earnings. Though proud of his accomplishments, Mehdi stays humble:
I am deeply grateful with life and all the people who joined our OMNIA family, in all America, Europe, Africa and Asia. Alone you can go fast, but when forming a solid team you can go much further and impact more lives.'
Mehdi has come a long way in just 4 years.
I remember in 2014 when I was first introduced to MLM. I knew it was the industry for me as it had the potential to create a way of life that Ive always wanted. It wasnt easy to get started however, it was way outside of my comfort zone.
Imagine how I got started. I was in Mexico, 8,000 km from my house and spoke no Spanish. I was there for only two months living in the city with a very small scholarship to live off of. I used part of that money and got my package and it was one of my best investments and it created me enough residual income to survive.'
Things have changed for Mehdi since joining OMNIA:
When I was introduced to OMNIA I was extremely skeptical about joining a crypto MLM. I knew 80% were scams and the other 19% were selling only vision or some sort of Bitcoin Killer'. Hopefully the world sees now that there is no killing Bitcoin.'
For me, the most important aspect of a company was transparency, and having more than a vision. OMNIA, from day 1 started with real mining of Bitcoin and over the last year added Ethereum and DASH.
They have also opened up impressive mines, such as Sweden, Austria, Armenia, etc.
I personally visited the Sweden facility and it was incredible. This transparent infrastructure that you can see, touch and hear anytime combined with their phenomenal leadership is enough for any networker to relax and take a hard look at this. Our systems are in place and this is a company where anyone can reach the top. Were not just saying that, were proving it.'
About OMNIA
Headquartered in Cyprus, OMNIA is a leader in the blockchain industry and offers a unique strategy for anyone to effortlessly participate. Our products and services are strategically sound enough to attract those that are blockchain savvy already and simple enough for those who are new to the world of cryptocurrency to begin their journey.  
Where allowed, OMNIA offers lifetime mining services for Bitcoin, Ethereum and other alternative cryptocurrencies in our mining catalog as well as a variety of other blockchain-related products and services. OMNIA is comprised of professionals who possess years of experience in this space since the inception of Bitcoin. We have a scalable infrastructure that is secure and fully optimizable, capable of being a major part of the future of blockchain. For more information please visit www.omniatek.com