Melaleuca CEO Frank VanderSloot To Resign If He Fails
August 13, 2018
By Team Business For Home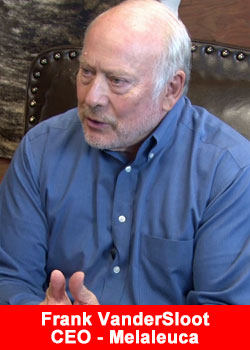 Melaleuca CEO Frank VanderSloot is staking his entire 32-year career on his ability to break a world rowing record.
Last week, VanderSloot announced he was going to make an attempt at the record on Tuesday, Aug. 14 '" his 70th birthday. But in a surprising company announcement today, VanderSloot says he intends to resign as CEO of Melaleuca if he fails to break the record.
If I break the record, I think it will say that Im young enough to stay at the helm of Melaleuca for, Im hoping, another 10 to 20 years,' VanderSloot said in an interview with EastIdahoNews.com. If not, maybe its evidence that Im aging as rapidly as anyone else.'
VanderSloot will be competing in the 100-meter row using the Concept 2 Rower. Hes exercised on the machine for years in his home.
He must finish in under 15.3 seconds to claim the world record.
He says the only reason hes able to compete is because of Melaleucas signature nutritional supplement product, the Peak Performance Pack. He believes this product has helped him not age as fast as even the most famous athletes his age.
Melaleuca has a product that is changing so many lives around the world, and its time that people know about it,'
VanderSloot says.
Its changed my life. Its changed everybodys life that has used it on a consistent basis.'
VanderSloot admits he is not an athlete. He has what he calls a cushy desk job,' and his demanding work and travel schedule leaves him only 10 to 30 minutes a few days a week to exercise. To make things even more challenging, he is going to try to break the record at Melaleuca headquarters in Idaho Falls, where the elevation is 4,700 feet.
That makes it a little more challenging. I want to make a statement about our product, and thats why Im doing this,'
VanderSloot says.
The competition in tough. The current world record for 70-year-olds in the 100-meter sprint on slides is held by the Netherlands Frank Bertina. Bertina has been one of his countrys leading rowers and trainers since he was 30 years old.
The record on the stationary rower is held by Ernest Tuff, who also happens to be the reigning World Masters Powerlifting champion in his age group.
VanderSloot insists his confidence in Melaleucas Peak Performance Pack is not misplaced. It was researched and developed entirely by scientists in Idaho and he points to three clinical studies that show the Peak Performance Pack reduces free radicals that cause aging.
Whats the likelihood that the CEO of a company that touts to have a product that should help you stay younger longer '" what are the chances hed be able to take the world record away from athletes that are well known in their country and some of the best in the world?' he says. It wont be a coincidence. It will be because Im using the Peak Performance Pack.'
VanderSloot will attempt to break the record live on Melaleucas Facebook page Tuesday at 1 p.m. Thousands of Melaleuca customers from around the world are expected to tune in.
If VanderSloot succeeds, he can thank the Peak Performance Pack. If not, one of eastern Idahos largest employers will be without a CEO.
Im very cognizant that Im putting it all on the line. Im drawing a line in the sand saying Ive got to perform here,' VanderSloot says. Ive got to put my money where my mouth is. Ive been touting this product and the benefits of it, and Im going to step forward and make that point.'
As first reported by East Idaho news.
About Melaleuca
Melaleuca: The Wellness Company enhances lives by developing, manufacturing and marketing more than 480 natural health and wellness products. These health, home cleaning, pharmaceutical and personal care products are designed to be safer and more cost-effective than grocery store brands. Visit melaleuca.com for more information.