New Avon Appoints Lori Bush As Chairwoman
August 13, 2018
By Team Business For Home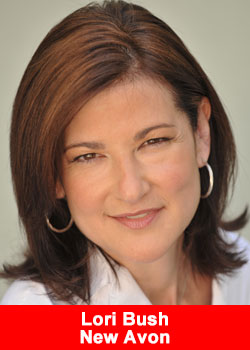 New Avon LLC today announced that Lori Bush has been appointed Chairwoman of the companys Board of Managers, effective immediately.She succeeds Jack Stahl, who has served as Chairman since June 2016.  Mr. Stahl, former President and Chief Operating Officer of The Coca-Cola Company and Chief Executive Officer of Revlon, will continue to serve on the Cerberus Competitiveness Council.The Board of Managers and I look forward to working with Lori in this expanded capacity, and are confident that she will be a strong partner to Chief Executive Office Scott White in driving New Avons strategic growth agenda.
Lori shares our strong belief in New Avons potential, and brings the visionary leadership required for this next stage of the companys journey,'
said Chan Galbato, Chief Executive Officer, Cerberus Operations and Advisory Company, LLC, and Member of New Avon Board of Managers.
Lori is well respected throughout the direct selling industry as an innovator and forward-thinker, and New Avon will benefit greatly from her insights and guidance.  Her experience driving a social commerce model will be invaluable to us as we accelerate our focus on delivering a modern, relevant experience for our Representatives.'
Ms. Bush is experienced in both the worlds of direct selling and consumer beauty products. From October 2007 through January 2016, Ms. Bush served as President and CEO of Rodan + Fields.
During her tenure, the company re-launched under a social commerce model that grew to become a billion dollar business and one of the largest skincare brands in the U.S.  Prior to Rodan + Fields, Ms. Bush served as President of Nu Skin, the global personal care division of Nu Skin Enterprises and held the positions of Worldwide Executive Director of Skin Care Ventures at Johnson & Johnson and Vice President of Professional Marketing for Neutrogena.
Throughout her career and since her retirement from Rodan + Fields in 2016, Ms. Bush has been an advocate for womens quality of life, speaking at industry and academic events and writing a number of papers dealing with health, beauty and womens leadership.  She co-authored the bestselling beauty and wellness book, Write Your Skin a Prescription for Change.    
Im honored to take on the Chairwoman role at this iconic brand at a time when the social commerce channel is rapidly transforming to become more relevant than ever,'
said Ms. Bush.
I am excited to work with the New Avon Board and Leadership Team to positively impact the lives of our Avon Representatives and their customers.
I believe the success of Avon will strengthen the channel, and importantly, strengthen the opportunity for the millions of direct sellers across hundreds of companies in the U.S. who depend on the sharing economy for their livelihoods.'
In addition to Ms. Bush and Mr. Galbato, other members of the New Avon Board of Managers include:
Miguel Fernandez, Global President, Avon Products, Inc.
Susan Kropf, Former President and Chief Operating Officer, Avon Products, Inc.
Matt Prevost, Chief Digital Officer, New Avon LLC; Senior Operating Executive, Cerberus Operations and Advisory Company, LLC
Michael Sanford, Managing Director and Co-Head North American Private Equity, Cerberus Capital Management, L.P.
Len Tessler, Vice Chairman and Senior Managing Director of Cerberus Capital Management
Scott White, Chief Executive Officer, New Avon LLC
*Jan Zijderveld, Chief Executive Officer, Director of the Company, Avon Products, Inc.
*Board Observer and Advisor
I would like to thank Jack for the incredible leadership he has brought to the company during this first and critical stage of the companys journey,' said Mr. Galbato.
Over the last two years, much progress has been made to establish New Avon as a separate company, which has included enhancing the Avon experience for our Avon Representatives, dramatically strengthening product innovation, and driving the IT transformation of the business.
With this strong foundation in place, we are well positioned to unleash significant growth opportunities for this great business.'
About New Avon LLC
New Avon LLC ("Avon") is the leading social selling beauty company in North America, with independent sales Representatives throughout the United States, Puerto Rico and Canada. Avon's portfolio includes award-winning skincare, color cosmetics, fragrance, personal care and health and wellness products featuring brands such as ANEW, Avon True Color, Espira, and Skin So Soft, as well as fashion and accessories.
Avon has a 130-year history of empowering women through economic opportunity, and supporting the causes that matter most to women. Avon philanthropy has contributed over $1 billion globally toward eradicating breast cancer and domestic violence. Learn more about Avon and its products at www.avon.com.