30,000+ Distributors And Customers Will Attend DoTerra's Convention in Salt Lake City
September 20, 2018
By Team Business For Home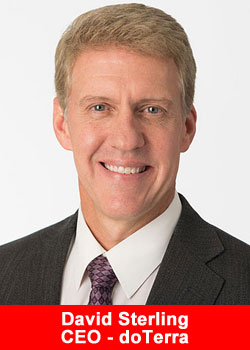 Visit Salt Lake (VSL) is hosting its largest annual convention client, doTERRA, at the Calvin L. Rampton Salt Palace Convention Center and Vivint Smart Home Arena this week, Sept. 19-22.
While celebrating its 10-year anniversary, doTERRA is expected to welcome over 30,000 of its wellness advocates and customers.
Sustainability is at the forefront of its annual convention with creative new systems initiated to reuse, recycle and repurpose materials, and the purchase of solar credits to attain energy neutral status.
With attendees from more than 75 countries during its four-day 2018 Global Convention, doTERRA is launching new products, revealing a major new local medical partnership and announcing new Co-Impact Global Sourcing and Healing Hands Foundation initiatives.
A Healing Hands Foundation service project will take place on Thursday and Friday from noon to 4 p.m. assembling support items for victims of human trafficking.
Proud of its environmental responsibility to Salt Lake, doTERRA is building on the sustainability initiatives it adopted during last year's convention by acquiring renewable energy credits from the Salt Palace rooftop solar array to make the 2018 Global Convention energy neutral.
In 2017, doTERRA's accomplishments set a record for the Salt Palace with a 46 percent landfill diversion rate, 44,000 pounds of materials donated to 20 donation partners and more than 2,000 pounds of food donated to feed the hungry. doTERRA is aiming for a 50 percent diversion rate with this year's convention.
"Ten years ago, we set out to change the world one drop of essential oil at a time,"
said David Stirling, doTERRA founding executive, chairman and CEO.
"Over the past decade, millions have joined with us in that vision. This year's convention theme, 'Dream,' pays tribute to all that the doTERRA family has been able to accomplish and all that we aspire to achieve in the future.
This annual event is not only a great way to celebrate our collective achievements; it also is an opportunity to dive into the science behind essential oils and to look toward the many new and exciting opportunities ahead. We are grateful to the State of Utah and Salt Lake for so wonderfully hosting our annual event."
"We look forward to welcoming our largest convention back to our community," says Scott Beck, President and CEO of Visit Salt Lake. "It's the long-term clients and partners like doTERRA that helps ensure the long-term success of Salt Lake's meeting and convention industry, and the future forecast for our meeting and convention industry is bright with multiple city-wide conventions and events booked through 2030."
About doTERRA
doTERRA is the verified leader in the global Aromatherapy and Essential Oils market in sourcing, testing, manufacturing, and distributing CPTG® essential oils through a network of more than 5 million customers. doTERRA, meaning "Gift of the Earth," sets the standard for essential oils by providing to its customers the most tested and most trusted oils, and having developed the expertise and commitment required to derive these unique oils directly from the best sources in the world.
doTERRA Co-Impact Sourcing® provides local growers and distillers fair compensation for their efforts, creating stronger local economies and a healthier, stable supply chain. In addition to a premium line of single-plant extracts and proprietary essential oil blends, the company offers oil-infused personal care and spa products, dietary supplements and healthy living products for the home.