ARIIX Appoints Sid Liu As Executive Vice President Of Sales For China
September 15, 2018
By Team Business For Home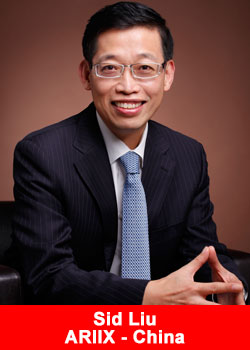 ARIIX, an international opportunity company that promotes healthy, toxin-free living, is pleased to announce Sid Liu as Executive Vice President of Sales for China.
Sid brings to his position over 20 years of management experience in the direct selling industry and a Ph.D. in Biotech.
As the Executive Vice President of Sales for China, Sid will lead the sales team and work directly with the top leaders in ARIIXs biggest market. Sid plans to not only surpass the 2018 sales goals for ARIIX China, but to also set the market up for a record-breaking year in 2019.
Sid is an impressive individual,' says Fred Cooper, ARIIX CEO and Founder.
Not only does he have his Ph.D., but his native language is Mandarin Chinese, hes fluent in English and conversant in Cantonese.

His energy and drive are exactly what we need for the leader of ARIIX China and were confident he will accomplish many great things. ARIIX China will only continue to flourish under his strong leadership style.'
Sids academic career was an international affair. He received his bachelors degree in Taipei, Taiwan, his masters degree in Utah, USA and his Ph.D. in Illinois, USA.
He now resides in Shanghai, China with his family. Sids contribution to the success of ARIIX China will not only come from his experience in the medical field, but his cultured educational background, as well.
ABOUT ARIIX
ARIIX is an international opportunity company that creates efficacious, toxin-free products developed through collaboration with world-renowned experts and marketed through independent representatives.
The ARIIX opportunity and brands are available in Australia, Canada, Greater China including Hong Kong SAR and Taiwan, Japan, Kazakhstan, Mexico, the Netherlands, UK, France, Belgium, Ireland, Russia, South Korea and the United States. For more information, please visit ariix.com or call 1-855-GO-ARIIX.