Asma Ishaq, CEO of Modere, Receives 2018 Rice University Award
September 8, 2018
By Team Business For Home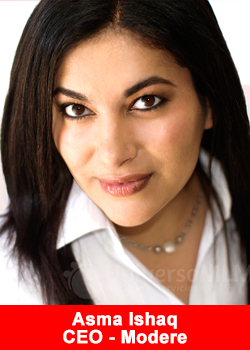 Modere, a healthy, safe and clean-lifestyle brand of dietary supplements, household and personal-care products with a presence worldwide, today announced that its Chief Executive Officer, Asma Ishaq, has been awarded the 2018 Rice Business Alumni Industry Excellence Award in Entrepreneurship.
Ms. Ishaq will be presented the award on Friday, September 7, at the Rice Business Alumni Awards banquet dinner. She received a dual M.B.A. in finance and marketing from Rice University in 2002 as a Ben F. Love scholar.
"I wear my MBA from Rice like a badge of honor, so receiving this award couldn't make me more proud,"
said Ms. Ishaq.
"I am so grateful for the close-knit community of students and professors at the Jones School who instilled my passion for business academia. Today, I insist that my educational background be inseparable from my personal brand '" I believe in higher education and its incalculable value for entrepreneurs as they navigate the unknown and build their business."
A pioneer in oral collagen/hyaluronic acid nutritional supplements and skincare, Ishaq is widely recognized as having led the burgeoning growth in today's collagen market. Since the launch of her first company, Jusuru International, her contribution to the nutrition industry, from research and development to intellectual property, manufacturing, regulations and policy, ingredient supply, and finished product marketing, has helped create a market surge of collagen and hyaluronic acid supplements, joint health products, and nutricosmetics.
Now, as CEO of Modere, she has applied her entrepreneurial skills and business acumen to head a global enterprise that provides safe, innovative, high-performance nutritional, personal care and household products distinguished by their state-of-the-art technologies. Under her direction, Modere has exceeded growth projections and is in an unprecedented position for further growth. 
Ms. Ishaq's first job out of Rice was with BlackRock, Inc., the world's largest asset management firm. She also served in multiple positions at Give Something Back® Workplace Solutions, a pioneering social enterprise that first introduced her to the concept of the "triple bottom line," a philosophy by which a company pays equal attention to community (social responsibility), planet (environmental sustainability), and profit (the bottom line).
Ms. Ishaq recognized that the future of business would be the convergence of mission-driven and for-profit business practices, and that that convergence could potentially have greater social impact and greater profit. While at Give Something Back®, she helped secure the company's position as a founding member of Certified-B Corporations, an entity that certifies for-profit companies based on rigorous standards of social and environmental performance, accountability, and transparency.
According to a former classmate of Ms. Ishaq's, Sean O. Ferguson, the Associate Dean and Director of MBA Programs at the Asia School of Business at MIT Sloan, "Asma is an impact oriented, unconventional thinking, hands on, anti-status quo professional who embodies so many of the defining qualities of an entrepreneur. In her first year, Asma would always challenge me and the other second year MBA leaders to think outside of the box and push boundaries when it would come to launching new initiatives, engendering support, or engaging with the administration. She definitely left her mark and made Rice a much better place than she found it." 
Following her time at BlackRock, Inc. and Give Something Back®, Ms. Ishaq served as Executive Vice President at BioCell Technology. She began her entrepreneurial career in 2009 as co-founder of Jusuru International, the company behind Liquid BioCellâ"¢, a multi-patented, award winning nutraceutical she developed that has since pioneered the collagen and HA dietary supplementation and skincare markets. When Ms. Ishaq started Jusuru, she applied the "triple bottom line" philosophy to its business model by mandating Jusuru's chartered commitment to give back by donating proceeds and resources to nonprofits and critical causes. 
In February 2017, Jusuru was acquired by Modere, a company offering a category-leading portfolio of clean-label lifestyle essential consumer products. Ms. Ishaq led Jusuru through its acquisition and was appointed Modere's CEO less than a year later in January 2018. Now, as CEO of Modere, she has carried the spirit and commitment to giving back to its company culture, as well.
To date, Modere Gives Back has donated Modere personal care products and made contributions to various charitable organizations nationwide, including homeless shelters, food pantries, drug rehabilitation centers, veteran support programs, and senior citizen and refugee centers. In addition, Ms. Ishaq's companies have rehabilitated orphanages in Dominican Republic and schools in Jamaica, contributed to international relief efforts in Haiti and the Philippines, and built a well for a Mexican village with no running water.
Under her direction, Modere has also established a unique partnership with Vitamin Angels, a non-profit that helps pregnant women, new mothers, and children under five gain access to essential vitamins and minerals. Thanks in part to Modere's contribution, Vitamin Angels was able to reach 61.6 million beneficiaries in 74 countries around the world in 2017 with lifesaving and life-changing vitamins. 
In addition to the group efforts made by her company, Ms. Ishaq has devoted her personal and individual efforts toward mentoring young women and ethnic minorities. She views the dissonance between female representation in the workforce and women in leadership roles to be unacceptable and believes accelerating women in leadership positions and creating systemic change requires building inclusive workplace cultures and a methodical process for mentoring young women. 
Ms. Ishaq's former professor, Sanjay Sood, Professor and Marketing Faculty Director at UCLA Anderson School of Management, added, "After she graduated, Asma moved to Los Angeles, and I left Rice for UCLA. As we would discuss her career, it struck me that Asma cared so much about being a mentor. More than just a passing interest, Asma genuinely feels lucky to have achieved such amazing success and wants to help others live up to their full potential. As a single mother in business school who has become a CEO, Asma has a lot of compelling life stories to share." 
James Zenni, Founder, President, and Chief Executive Officer of Z Capital and member of Modere's Board, said of Ms. Ishaq's award, "Asma's compassionate but focused leadership style lifts all ships within Modere by catering to the development of those within and outside her own teams while constantly aiming for excellence across the board. Her innovative and entrepreneurial drive, pragmatic risk management, scientific aptitude, vision, and passion for business are a rare combination that make her most deserving of this award, but also make her an exemplar of the kind of alumna Rice University should be proud to call its own."
Ms. Ishaq has served as Committee Member for the Council of Responsible Nutrition, the Advisory Board of The Fragrance Creators Association, and on the Board of Directors of the DSA and DSEF, spoken at industry stages including the World Collagen Conference, NutriCosmetics Summit, and appeared on Fox, CBS, ABC, and NPR. Her work has earned recognition and awards from organizations such as Supply Side West, NutraIngredients, New Hope, DSA, and now Rice University.
About Modere 
Modere  offers a category-leading portfolio of live clean lifestyle essentials including beauty and personal care, health and wellness, and household products that are equal parts safe, high-performing and scientifically designed. We believe modern health involves pure nutrition, a clean environment and safe ingredients across all our product categories. Modere brings a holistic, live clean approach to well-being, and our products reflect a commitment to excellence and innovation with tested formulas proven around the globe. The recipient of multiple third-party validations, our line includes products that are EPA Safer Choice-approved, EWG Verifiedâ"¢, NSF Certified and gray-water safe.
The company is a proud supporter of Vitamin Angels®.