How Rank Makers And Ray Higdon Quickly Get You To The Next Level In Your Business
September 27, 2018
By Team Business For Home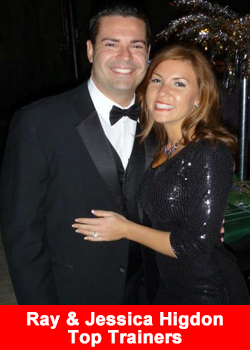 Even if you are stuck 🙂
Ray Higdon and his wife Jessica Higdon are inducted in the Ambassadors of Network Marketing Hall Of Fame 2018.
They are former number one income earners turned trainers for the industry, they love helping Network Marketers through their Rank Makers group as well as their leadership mastermind, Top Earner Club.
 Ray Higdon, runs what many call the #1 community for Network Marketers,  Rank Makers.
In the first half of this year, his Rank Makers group has helped network marketers bring in 78,396 new customers, enroll 13,792 new reps and helped 2,721 people rank advance in their company.

For the last 9 years he has been coaching and training network marketers to get to the next level, whatever that means to them.
Ray Higdon stated:
Whether it's someone like Erik Niemann who had been in network marketing for 18 years before he had his first $1,000 month by going through our trainings or one of our clients at over $200,000 a month in income to help get them to an even higher level, we love helping network marketers thrive and break through.
Here's some practical advice based on where you are at in the space on how to quickly get past the level you are at.
$500 a month
If you are making less than $500 a month, have a desire to make that and more of course, and have been in network marketing for more than 2 years, chances are you simply aren't talking to enough people OR you aren't learning how to better communicate. Our tips for those in this range would be to say less to more people, lean on the tools and truly analyze how much of your free time is spent reaching out and asking people if they are open to your product, service or opportunity.
$500 and $2,000 a month
If you are between $500 and $2,000 a month and you have been there for more than a year, you are very likely trying to rely on your team to "step it up" and you very well may be spending too much time attempting to coach or train them versus you go back out and do what got you to where you are which is bring new blood into the organization. Go inspire your team with your actions, not your words.
$2,000 and $10,000 a month
If you are between $2,000 and $10,000 a month in your business and have been stuck there for a year or more then you most likely are relying too much on either your own efforts or you are a super recruiter but aren't stressing the use of tools. Keep recruiting of course but make sure everything that you do is stressing the use of tools and NOT your personality, charisma or just your ability as a closer. Great salespeople get stuck at this level ALL the time due to relying on their skillsets versus a system or tools.
$10,000 to under $100,000 a month
If you are stuck for some length of time at $10,000 to under $100,000 a month then you most likely could improve your culture. We see culture as the making of everyone to feel good regardless of his or her level of results or their level of desire. If someone comes into your organization and likes to attend events, buy product but isn't currently doing any prospecting, will they be made to feel like a slacker or will it be obvious that you really wish they would step up and do more?
This is tricky for high driving leaders as they cannot fathom that anyone could possibly be happy if they aren't making money but a VERY high percentage of your organization CAN be happy without making money IF they are allowed to. Think about the gym owner, the gym owner doesn't care if you use the row machine for 5 mins or you bench press a million pounds, they care if you kept your credit card on file and will welcome and make you feel good just for coming in. Gym owners in this respect are often WAY smarter than many network marketing leaders. As this is a more complex tip, we do fully teach this inside our Rank Makers group.
$100,000 to $250,000 a month
If you are stuck at $100,000 to $250,000 a month then it is most likely due to a combination of 1, maybe you have taken your foot off the gas and feel like you have arrived and simply don't desire getting to the next level, which, is fine and we would say you aren't stuck but exactly where you are cool with or 2, more needs around culture. For example, most team Facebook groups ONLY talk about business, making money, business, recruiting, business, business, business.
Instead you can certainly talk about business some of the time but also mix in love, recognition, acknowledgement, what fundraiser or mission you are supporting and painting the vision, again, with complete love for all those in your organization regardless of their results or level of desire. At and below this level you also can easily fall prey to the obstacle of the day if you don't enforce strong core values. Core values are the traits that drive your organization and what makes them who they are when faced with any sort of questions or challenges.
Hope this has been helpful, if you like this sort of training we go live on a daily basis in our group called Rank Makers. Each day we provide you with a daily action step as well as a brief training and you gain access to an entire library and database with over 300 trainings that you can watch at your convenience.
About the Higdon Group
The Higdon Group is passionate about helping network marketers not only reach their highest potential but equipping them at every level with the knowledge needed to succeed.  Headed by Ray and Jessica Higdon, the company lives and operates by their credo:
"Help people find freedom and fulfilment while always doing the right thing and striving for "awesomesauce."
It's this passion adopted by every team member working to support this vision that makes an impact both internally and externally.
From various content crafted and shared with global audiences daily to the appreciation and recognition of those striving for and achieving results, the Higdon Group is truly a unique company set apart in the world of Network Marketing.
The Higdon Group stands apart from other companies given their continued dedication to the network marketing industry delivering daily live content in a private membership based community called Rank Makers. Rank Makers gives network marketing  professionals a place for community and support and they are guided daily with live training by Ray Higdon and the help of his team members.
To learn more you can visit www.HigdonGroup.com