Top Earner Austin Zulauf Goes Full-Time Training And Coaching
September 8, 2018
By Team Business For Home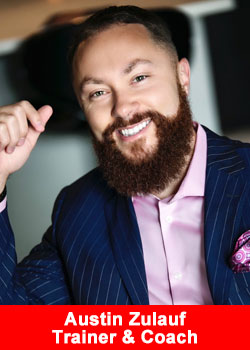 Austin Zulauf has been the #1 income earner in three separate Network Marketing companies throughout his career in this profession and has made the decision to step down from his position as the #1 earner of Direct Cellars Wine Club even though Direct Cellars seems to be moving well into an incline.
Although Austin claims to have loved building the wine club and says lots of his close friends will continue building there, he prefers to share the training and systems that have helped him and his partners earn millions in the field. 
The Network Marketing profession is proud to have one of its best and brightest trainers in history available to teach and share full-time for the entire profession now.
He stated:
Theres no formal education in our beloved profession even though there are some great trainers.

My job is to help elevate this profession by providing systems, training and support that works 100% of the time for those who actually use it.
For those that are extra serious about building a large organization and making a huge impact, I offer personal one-on-one coaching with limited spots available at any one time. Thats what I love doing! These are some of the ways well elevate this profession'¦that along with continuing to make our professions focus one of love, growth and continuous development.'
Austin provides training on everything it takes to build a large and sustainable Network Marketing organization including:
Basics and Fundamental Principles of Professional Network Marketing
How to Launch Your Business Like a Pro
The 4 Pillars of Duplication
How to Develop Fanatical Culture
The 7 Ps (A simple training that explains the entire MLM process
Beginner to Expert Level Social Media Marketing Techniques
An Ongoing Personal Self Development Course
and just about anything else you can think of with more training programs developing constantly.
 This top trainer got his start in the direct selling profession with W Clement Stones company, Combined Insurance Company of America. Selling insurance door to door and store to store, Austin practiced Combineds PMA (Positive Mental Attitude) philosophy, breaking company records and after less than 2 years with Combined, he was offered the position of Divisional Sales Trainer for their Dallas TX office by John Tucci. 
Leaving the field to train, Austin became one of the hundred year old companys top trainers by the age of 21, occasionally going back into the field to lead by example. Austin has always said:
You cant teach what you dont know and you cant lead where you wont go'.
After nearly 7 years with the company, corporate changes leave Austin finding himself starting from ground zero and he winds up as a factory worker.
Nearly 2 years working in hot and sweaty factories, Austin is introduced to the profession that forever changed his life by a young man he found on Facebook.
He says:
I was horrible when I first started building but we all go through the same process. Youve got to be bad before youre good and good before youre great!'.
Austin applied his skills as a trainer to develop simple duplicatable systems anyone can follow and has been changing lives in this profession ever since.
Speaking on stage in many different countries, Austin stays true to a powerful message of simplicity thats easy to grasp and apply immediately. 
About Austin Zulauf
Because of the skills hes developed in this profession, Austin has helped to retire countless families around the world from their full-time employment, built massive organizations world-wide, been the #1 earner in three separate MLM companies, written an Amazon best-selling book and shown us all how to live a more fulfilling and purpose-driven life.
You can connect with Austin on Facebook https://www.facebook.com/austin.zulauf and https://www.facebook.com/AustinZulaufInternational
More free training  https://austinzulauf.com