Beth Robinson Achieves Blue Diamond Rank With Valentus
October 16, 2018
By Team Business For Home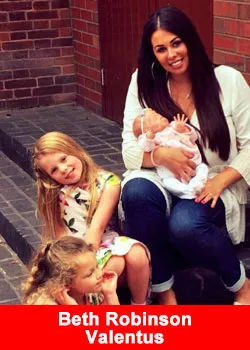 Beth Robinson from Staffordshire, United Kingdom  is a Blue Diamond with Valentus.
She stated:
I am rocking and rolling and I just love the opportunity. If it wasn't for the industry I'm not sure I would be here. It gave me focus and purpose and I'm forever grateful. 
I started network marketing very briefly when I was 19 years. I had lost my mum at the age of 16 and I was in a pretty awful situation mentally. I was offered something at the time that was completely alien to me.  Little did I know that this was the first step of the rest of my life.
I was a hairdresser when left school. Now I'm a 27 year old, six figure earner, with three daughters, Evie 7, Felicity 4, and Willow 16 weeks.
I joined Valentus 2 years ago and it was my third product based company. I had started to lose hope in the industry as I had been let down by previous companies that had promised the world and never delivered. I made many mistakes and learned many, many lessons all of which have made me a stronger individual and networker.
It was when I joined Valentus that I found my spark again. I was introduced to the business via a call with some of the leaders in the business who explained the potential and the products, and I decided that this would be my last shot in the industry.
Over the past 9 years I have faced almost every obstacle due to being an introvert when I first entered the industry.  Now I wear my heart on my sleeve and I do take things very personally when it comes to the bad side of our industry.
To run a business around the children and everything else that comes with life has been difficult at times.
I feel very fortunate to work with mums everyday where we empower, help, support and lift each other to a place where we all win. 
This is why I have such a huge passion for what I do. Not only have I gained a bunch of best friends and learned so many skills which have brought me to where I am today, but I get to spend every second with my daughters.  I never thought it would be possible to run a successful business and be with my daughters 24/7.  And to top it all off I got married last year and I could afford the wedding of my dreams.
I teach my daughters that anything is achievable, and I have proved to myself that rock bottom is where it all begins. I have grown in every aspect and I work every hour God sends.
No matter what, through the tears, through the hard days, through the issues that business throws I have been strong and never, never quit.
Valentus is my home and I'm forever grateful. My goals are to help as many women as possible, to mentor, to lead by example and to be the example that a person is capable of almost anything when they commit and dedicate their current time to their future dreams.
About Valentus
In Latin, the word Valentus' means prevail,' defined as proving to be superior in strength, power, and influence. Recognizing that, we couldnt have picked a more fitting name for a company that strives to be the example in an industry that deserves a leader to follow.
Since day one, our focus, our passion, and our commitment have been to create a company, a product line, and an opportunity built on a foundation of integrity.
From creating significant levels of income, to building strong networks, healthy long-lasting relationships, making new friends, participating in activities you never even knew existed, having the time to do the things you love with the people you love to be with, VALENTUS can help you PREVAIL in ALL of your goals! For more information please visit www.valentus.com