Herbalife Q3 Sales Up 15% To $1.2 Billion
October 31, 2018
By Team Business For Home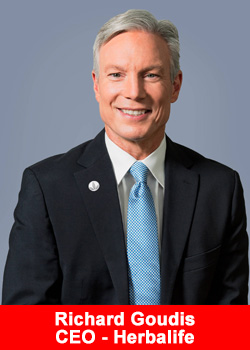 Herbalife reported net sales of $1.2 billion increased 15% compared to third quarter 2017.
Volume points of 1.5 billion, increased 15% compared to the prior year period, above the guidance range of 8.5%– 12.5%. This was the largest year over year volume point percentage growth in a single quarter since 2012.
Reported diluted EPS of $0.49 and adjusted1 earnings of $0.74 per adjusted2 diluted share, compared to $0.33 and $0.41, respectively, for the third quarter last year, which were negatively impacted by expenses of approximately $4.4 million or $0.02 per share related to the China Growth and Impact Investment Program.
Updating FY 2018 volume point and net sales guidance range to 8.6% – 9.6% growth and 9.9% – 10.9% growth, respectively, as well as reported and adjusted1 diluted EPS guidance to $1.99 – $2.09 and $2.74 – $2.84, respectively.
Initiating FY 2019 net sales guidance in a range of 2.8% – 6.8% growth, which includes an approximate 220 bps currency headwind.
Company announces board approval of a new five year $1.5 billion share repurchase program.
"Our strong sales and earnings performance during the third quarter demonstrate the global consumer demand for our nutrition products." 
Rich Goudis, CEO of Herbalife Nutrition.
About Herbalife
Herbalife Nutrition is a global nutrition company whose purpose is to make the world healthier and happier. The Company has been on a mission for nutrition – changing people's lives with great nutrition products & programs – since 1980. Together with our Herbalife Nutrition independent distributors, we are committed to providing solutions to the worldwide problems of poor nutrition and obesity, an aging population, and skyrocketing public healthcare costs, while supporting the rise in entrepreneurs of all ages.
Herbalife Nutrition offers high-quality, science-backed products, most of which are produced in Company-operated facilities, one-on-one coaching with an Herbalife Nutrition independent distributor, and a supportive community approach that inspires customers to embrace a healthier, more active lifestyle.
Herbalife Nutrition's targeted nutrition, weight-management, energy and fitness and personal care products are available exclusively to and through dedicated Herbalife Nutrition distributors in more than 90 countries.
Through its corporate social responsibility efforts, Herbalife Nutrition supports the Herbalife Nutrition Foundation (HNF) and its Casa Herbalife Nutrition programs to help bring good nutrition to children in need. Herbalife Nutrition is also proud to sponsor more than 190 world-class athletes, teams and events around the globe, including Cristiano Ronaldo, the LA Galaxy, and numerous Olympic teams.
Herbalife Nutrition has over 8,000 employees worldwide, and its shares are traded on the New York Stock Exchange (NYSE: HLF) with net sales of approximately $4.4 billion in 2017. To learn more, visit Herbalife.com or IAmHerbalife.com.