Avon Reports 1% Increase for Q3 2018 Revenue
November 7, 2018
By Nicole Dunkley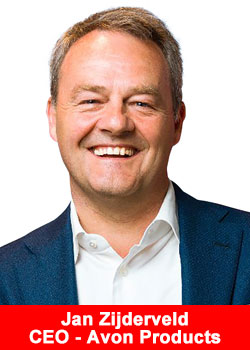 Avon Products, Inc. (NYSE: AVP) recently announced its results for the quarter ended September 30, 2018.
Jan Zijderveld, Avon CEO, said, "As we said at the recent investor day, it is going to take time for us to execute this turn-around. While we are not yet satisfied with the overall quarterly results, I am encouraged by the speed at which initiatives are being adopted in our markets. We are beginning to see benefits from recruiting and training initiatives that have been put in place in countries around the world."
Mr. Zijderveld continued, "At its heart, Avon is the world's largest social selling company, focused on improving the lives of women.  Rebooting our sales model and returning the 6 million women to the center of everything we do, making it easier for her to succeed with Avon, will ensure our long-term success".
"While we are still in the beginning stages of our turn-around, we are beginning to see early results of various initiatives.  Through Avon Opportunity Meetings, we are bringing significantly more people in our Asia Pacific region, global training programs are exceeding participation goals and faster launched, on-trend beauty products are being met with strong acceptance in the marketplace. We know that in order to make "Her" successful, we have to move more quickly than we ever have in the past, make it easier for Her to do business and help Her improve Her earnings."
Jamie Wilson, Avon CFO, said, "During the third quarter, we completed the restructuring actions associated with the cost savings program initiated in 2016, exiting 2018 with run rate savings of $350 million, as targeted. We began implementing programs against our new cost savings initiative announced last month. The new initiative focuses on simplifying the business to generate efficiencies, improve revenue management, and generate interest and tax savings and is expected to free up approximately $400 million over the next three years to support underlying growth initiatives. In addition, our focus on revenue management contributed to our ability to expand gross margin 10 basis points in the quarter."
Highlights for Third Quarter of 2018:
Total Reportable Segment Revenue in reported currency increased 1% to 

$1.4 billion

. Adjusted1 Total Reportable Segment Revenue in constant dollars1 decreased 4% on a like-for-like1 basis
Gross Margin of 62.2%. Adjusted Gross Margin increased 10 basis points to 61.3% on a like-for-like basis, favorably impacted by the net impact of price and mix
Active Representatives and Ending Representatives, both from Reportable Segments, declined 5% and 6%, respectively
Operating Margin increased 690 bps to 13.1%. Adjusted Operating Margin decreased 280 bps to 3.8% on a like-for-like basis, reflecting key investments in field, advertising and brochure
Diluted Earnings Per Share of 

$0.21

. Adjusted Diluted Earnings Per Share of 

$0.02

 on a like-for-like basis
Foreign currency unfavorably impacted Diluted Earnings Per Share by an estimated 

$0.12

 per share and Adjusted Diluted Earnings Per Share by an estimated 

$0.04

 per share, driven by the strength of the U.S. dollar against the currencies of the countries in which the Company operates
Structural and operational changes resulted in continued improvement in the Effective Tax Rate, on track to deliver a 15% reduction in the annualized Adjusted Effective Tax Rate to 65%
To view the full Avon Q3 2018 financial report, click here.
Avon Products, Inc.
Avon is the Company that for 130 years has proudly stood for beauty, innovation, optimism and, above all, for women. Avon products include well-recognized and beloved brands such as ANEW, Avon Color, Avon Care, Skin-So-Soft, and Advance Techniques sold through approximately 6 million active independent Avon Sales Representatives.