Dr. Chi Nguyen Achieves Triple Diamond Rank With Valentus
November 22, 2018
By Team Business For Home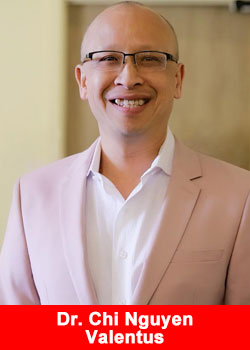 Valentus is proud to announce that Dr. Chi Nguyen has become a Triple Diamond in record time.
You may ask why a well respected and very successful doctor/surgeon would get involved in network marketing? And why Valentus?
I asked Dr. Chi, this exact question.
His response.
"I understand how powerful network marketing is along with the power of residual income.  As a doctor, if I'm not at work I'm not getting paid.  Your doctor today is working longer and harder for less and less money. 
I love practicing medicine, being a surgeon and helping people was something I always wanted to do.  I will continue to practice medicine to some degree but right now I practice medicine part time, so I can pursue Valentus full time.
Why?  It pays better.  It's fun.  I can still help people with their health but now I can talk about their wealth.
My sponsor John Haremza talks about the 5 critical elements for success being in place and ourtiming is perfect.  Having been involved in other network marketing companies, I've never seen a compensation plan as lucrative as Valentus.
I believe the Optimum Coffee is a net worker's dream product.  It provides a long term solution to weight management.  It gives the average person an opportunity to manage their weight without being miserable.  It tastes great.  It's affordable.  WOW….  is it effective!  People experience the Optimum impact with just one cup.  It simply crushes cravings.
The culture is amazing. John calls it the 6th element   It all flows directly from our Founder, Dave and Joyce Jordan.  The energy, the vibe, the culture, the heart is unlike anything Ihave ever experienced.
I want to thank John Haremza my sponsor for introducing me and for his tremendous support and Dave and Joyce Jordan for providing us with such an incredible opportunity".
I'm looking forward to a record-breaking 2019 as we continue to help others achieve their dreams and goals.
"Valentus is growing, the orders are flowing."
About Valentus
In Latin, the word "Valentus" means "prevail," defined as proving to be superior in strength, power, and influence. Recognizing that, we couldn?t have picked a more fitting name for a company that strives to be the example in an industry that deserves a leader to follow.
Since day one, our focus, our passion, and our commitment have been to create a company, a product line, and an opportunity built on a foundation of integrity.
From creating significant levels of income, to building strong networks, healthy long-lasting relationships, making new friends, participating in activities you never even knew existed, having the time to do the things you love with the people you love to be with, VALENTUS can help you PREVAIL in ALL of your goals! For more information please visit www.valentus.com