Enhanzz Global Expands To The Middle East
November 18, 2018
By Team Business For Home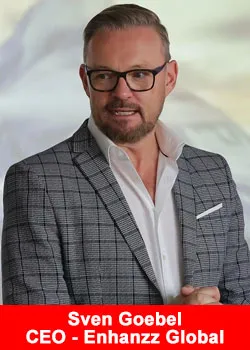 Just 3 months after its pre-launch in Europe in September, Enhanzz Global is in the middle of its pre-launch phase in the Middle East, where its regional headquarter is located in Dubai under the registered trade name of  Enhanzz Middle East LLC.
Enhanzz Middle East appointed CEO Eric Gottschalk, a German national who lives in Dubai since almost 20 years. Eric's background – next to Network Marketing – is classical entrepreneurship.
Consequently, he put together a great team of talented experts which on a daily basis is coordinating with the Global HQ in Switzerland to ensure the regional launch of the Enhanzz daughter operations happens as smoothly and professional as it did in Europe.
CEO of the Enhanzz Group Sven Goebel:
"We are very excited about the early opportunity to enter this marketplace.

Both our social selling business model as well as our exclusive Swiss skin care line are perfectly positioned for this region and we have an amazing local corporate team that will be of full support for our Brand Partners in that region from Day 1."
Registration for Brand Partners will be open from 1 December and the first deliveries of products is scheduled for the week of 15 December offering a similar product selection and pricing to Europe.
Local leadership is also already lining-up for registrations while European Brand Partners can soon start registering downlines in the UAE and 4 other simultaneously opened GCC countries: Saudi Arabia, Kuwait, Bahrain and Oman.
While the business entity Enhanzz Global stays centralized in Switzerland, Enhanzz Middle East acts as a fully synchronized subsidiary in regards to the consumer oriented HANZZ+HEIDII business.
The expansion strategy allows the company group to act quickly and efficiently, with local product-, marketing & sales support and global technical and administrative support. The model is fully scalable for efficient further global expansion.
The Companies first business event in Dubai is scheduled on 28 November  2018 at the Media One Hotel in Dubai from 8:00pm onwards; For more information about Enhanzz Middle East or the upcoming events, please contact: [email protected]
About Enhanzz, The Happiness Company
Enhanzz is a newly formed, European based distribution company from Switzerland. The founders Dr. Sven & Audrey Goebel and Sven & Christina Hennige, heavy weights in both the direct sales and corporate field, believe that it was the right time to launch a modern, tech-oriented, consumer-friendly global company from Europe.
By identifying as Swiss-based, they are making their own commitment to exceptional standards in every aspect of the companys products and operations, offering fashionable, hi-quality, Swiss-made consumer product lines.
The company positions itself as a technology based company with a dynamic, consumer-oriented compensation plan including latest technology like Blockchain for utmost transparency.
Their philosophy and value system is anchored in their over many decades proven Happiness model. For more information please visit www.enhanzzglobal.com