M.Global, Jamberry, Avisae Merge into BeneYOU
November 22, 2018
By Team Business For Home International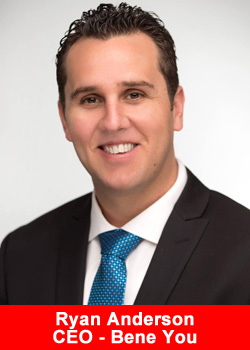 Direct selling companies M.Global, Jamberry and Avisae have joined together to form the newly launched BeneYOU, LLC.
The move is the culmination of a series of strategic moves that have occurred throughout 2018, including M.Global's June acquisition of assets from Jamberry, which offered beauty and skin care products, and the recent welcoming of Utah-based Avisae, a health and wellness company.
"As a relatively young company, we've made several strategic decisions during 2018 that position us for dynamic expansion and provide our Associates and Customers with personalized growth opportunities along with a product mix that offers a total approach to wellness and beauty,"
said BeneYOU President and CEO Ryan Anderson.
"We love that this new company communicates our commitment to helping people around the world become 'a better you.'"
The company also announced the appointment of Dave Wentz as board chairman of BeneYOU. Wentz, the former CEO of USANA Health Sciences, has also served as chairman of the Direct Selling Association Board of Directors and chairman of the Direct Selling Education Foundation.
"I'm excited to join the team at BeneYOU," said Wentz. "Our synergistic product mix—coupled with an individualized approach to wellness and entrepreneurship—presents us with the opportunity to become a powerful force in evolving the direct-sales industry in the new gig economy."
Avisae founders Brooks Yates and Brent Ririe will also have leadership roles at BeneYOU. Yates will serve as the company's executive vice president of IT and Finance, while Ririe will engage his skills and experience to drive business activity as a top field leader.
Anderson said the existing brand names for each product line will remain the same. For the immediate future, BeneYOU will also retain the websites for each product line.
About M.Global
 M.Global represents the culmination of the worlds best networking and direct-sales concepts, executed with passion and true partnership with their Member field: whole-family wellness through personalized hydration; on-trend beauty indulgences for heart-felt self-expression; and revenue-sharing program with seven distinct business models for personalized entrepreneurship.
Ms nutritional supplements target improvements in antioxidants, energy, weight loss, mood, focus and more. M recently acquired the Jamberry ane Avise brand, and both parties are eagerly moving into a fantastic future for beauty. And Ms innovative business model allows Members to personalize their entrepreneurship through any (or all!) of Ms revenue generators: direct from the company, person-to-person retail, trade shows and events, social media, fundraisers, online retailing and brick-&-mortar store presence.