NASCAR Driver Gray Gaulding Unveils Partnership With PURE
November 3, 2018
By Team Business For Home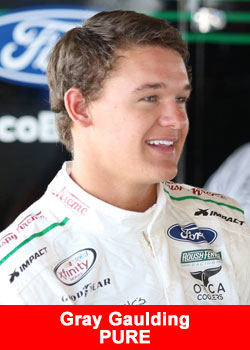 Gray Gaulding, NASCAR Driver and PURE Independent Business Owner (IBO), announced today his plans for the 2019 season and partnership with PURE: People United Reaching Everyone at a press conference on Friday, November 2, 2018 at Texas Motor Speedway.
Today, Gray Gaulding, SMG (Standout Management Group, Inc.) driver, unveiled the Number 08 Chevrolet Camaro at Victory Lane at Texas Motor Speedway in Fort Worth, TX. The car will compete for wins in the 2019 NASCAR Xfinity series.
PURE will join the Number 08 Chevrolet team for the entire Xfinity season and select Monster Energy NASCAR Cup Series races throughout 2019, debuting at the Daytona 300 next February.
"I'm extremely excited to represent the PURE brand both on and off the track each week, in addition to improving my health and performance by using their products," said Gray Gaulding.
"NASCAR is a great platform to showcase outstanding companies like PURE, and I'm proud to return to my original 08 number with Chevrolet engines to go for wins while promoting my PURE business."
Daren Hogge, PURE CEO, shared,
"We are thrilled to have Gray join the PURE family as an IBO. It is an amazing opportunity to support such a great young man developing his businesses both on and off the track. Our partnership with Gray will focus on our entire line of nutritional supplements, specifically Gray's favorite GPS performance products, ENERGY drink and GoYin superfruit juice."
About PURE
PURE: People United Reaching Everyone is a leading innovator in health and wellness products. We believe people can achieve Whole Healthwith a balance of physical health, healthy finances and purpose.
The products work together; complementing and supporting each other to maximize their effectiveness and deliver optimal results. PURE is a global company headquartered in Frisco, Texas, with offices in Thailand, Taiwan and Korea.
For more information on the products or business opportunity, visit livepure.com