Nu Skin Q3 Sales Up 20% To $675 Million
November 8, 2018
By Team Business For Home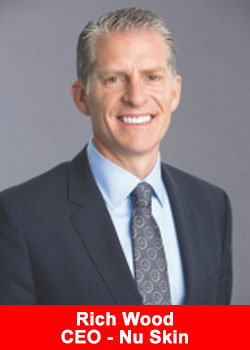 Nu Skin Enterprises, Inc. (NYSE: NUS) today announced strong third-quarter financial results with revenue of $675.3 million, an increase of 20 percent over the prior-year period. Earnings per share were $0.94, an increase of 24 percent over the prior-year period, or $1.01, an increase of 33 percent, when excluding a foreign currency translation loss of $0.07.
"We delivered strong year-over-year financial results with reported revenue growth in every region, highlighted by double-digit increases in Mainland China and Southeast Asia,"
said Ritch Wood, chief executive officer.
"This is our fourth consecutive quarter of revenue growth of 20 percent or more, driven by the continued execution of our growth strategy focused on engaging platforms, enabling products and empowering programs which led to solid customer growth of 9 percent and sales leader growth of 14 percent."
"We continue to empower our sales leaders to effectively acquire customers through enabling social sharing, providing innovative products like ageLOC LumiSpa, and implementing our enhanced sales compensation program, Velocity. We are on pace to generate a very strong finish to this year which we believe sets us up well for 2019," Wood concluded.
"We generated 20 percent year-over-year revenue growth and 24 percent improvement in earnings in the quarter,"
said Mark Lawrence, chief financial officer.
"For the year, we are increasing our annual revenue guidance to $2.66 billion to $2.68 billion with earnings per share of $3.48 to $3.55. This earnings guidance reflects the $0.20 foreign currency translation loss from the second and third quarters and the $0.16 purchase accounting charge.
We are projecting fourth-quarter revenue of $665 to $685 million, including a 4 to 5 percent negative currency impact, and earnings per share of $1.00 to $1.07, or $1.04 to $1.11 when excluding the estimated $0.04 purchase accounting charge. As a reminder, in the fourth quarter of 2017, we held an ageLOC LumiSpa global introduction which generated $130 million in sales," concluded Lawrence.
About Nu Skin Enterprises, Inc.
Founded more than 30 years ago, Nu Skin Enterprises, Inc. develops and distributes innovative consumer products, offering a comprehensive line of premium-quality beauty and wellness solutions. The company builds upon its scientific expertise in both skin care and nutrition to continually develop innovative product brands that include the Nu Skin® personal care brand, the Pharmanex® nutrition brand, and most recently, the ageLOC® anti-aging brand.
The ageLOC brand has generated a loyal following for such products as the ageLOC LumiSpa skin cleansing and treatment device, ageLOC Youth nutritional supplement, the ageLOC Me® customized skin care system, as well as the ageLOC TR90® weight management and body shaping system. Nu Skin sells its products through a global network of sales leaders in Asia, the Americas, Europe, Africaand the Pacific.
As a long-standing member of direct selling associations globally, Nu Skin is committed to the industry's consumer guidelines that protect and support those who sell and purchase its products through the direct selling channel. Nu Skin is also traded on the New York Stock Exchange under the symbol "NUS." More information is available at www.nuskin.com.