WorldVentures Expands To France
November 11, 2018
By Team Business For Home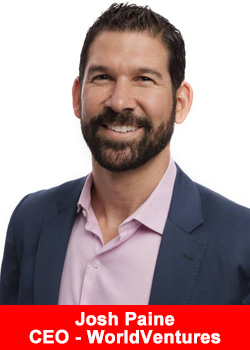 WorldVentures™, the leading direct seller of global travel and leisure club memberships, has established a branch of its Dutch operations in France, a move expected to bolster the region's economy through business opportunities and increased tourism.
"We are honored to open in France,"
CEO of WorldVentures Holdings Josh Paine said.
"WorldVentures is a great fit for a country that is a top destination for travelers around the world and a culture that celebrates life and new experiences.

"The announcement means that people in France with entrepreneurial ambitions can join Independent Representatives across the globe who can earn income by selling WorldVentures' flagship product, the DreamTrips™ Membership.
For years, WorldVentures has offered DreamTrips to France as a destination through its travel partner.
With this new market opening, now residents of France have access to DreamTrips and to a membership that offers professionally curated travel opportunities — near and far — as well as a robust loyalty program at select restaurants, spas and entertainment venues around the globe.
Since 2015, there have been 115 DreamTrips to France, with a total number of rooms booked of 2,655, for a total of 9,808 nights, with 5,001 adults and 662 children traveling.
In 2019, WorldVentures Foundation, the nonprofit arm of the company, will host its first Voluntour in France, an opportunity for volunteers to benefit the health, education and happiness of children and families in the community.
About WorldVentures Marketing, B.V.
WorldVentures Marketing, B.V. is a subsidiary of WorldVentures Holdings, LLC, a privately held company based in Plano, Texas. WorldVentures Marketing sells travel and leisure club memberships providing a diverse set of products and experiences.
The company's goal is to help Independent Representatives, DreamTrips Members and employees achieve more fun, freedom and fulfillment in their lives. The WorldVentures group uses the direct sales model to go to market with active Representatives and members worldwide.
For more information, visit worldventures.com.
–