ACN Finishes 25th Anniversary
December 8, 2018
By Team Business For Home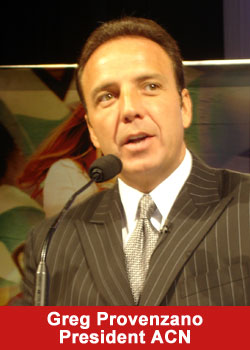 ACN Inc., a global leader in direct sales, recently wrapped up three days of training and promotion at its International Training Event in the Long Beach Convention Center.
The convention marked the end of ACN's 25th anniversary year celebration and ushered in #ACNnextgen, a multi-faceted initiative crafted to take the company into 2019 and beyond.
Thousands of Independent Business Owners (IBOs) and prospects packed the venue for training on everything from starting a business to maximizing recently-added tools, such as ACN Compass, a comprehensive app that streamlines processes.
"We knew coming into Long Beach that this would be an exceptional event," ACN President and Co-Founder Greg Provenzano said.
"Something very special is going on at ACN. Any part of #ACNnextgen could be an event itself. To see it all together, it's amazing."
Although the ACN Compass App was central to learning at the convention, #ACNnextgen also includes upgrades to the compensation plan and consolidation of essential websites into one all-inclusive resource.
Attendees received more advanced training on ACN Compass. This new app puts control in the palm of an IBOs hand like never before. The app can help an IBO do everything from pique interest to invite prospects to manage their teams.
ACN leaders took to the stage for training that ranged from personal development to how to find your team's next leaders.
"You could feel an elevated energy from the very start in Long Beach," Provenzano said.
"The momentum seemed to carry and multiply by the day, trainer to trainer, and throughout the arena. It was a collective sense that 2019 will be something like we've never seen at ACN."
ACN accepted donations on behalf of the Long Beach Ronald McDonald House, as is tradition at International Training Events. ACN matched gifts from IBOs, employees and convention guests to the tune of a total donation of $42,215.24.
Funds will help this Ronald McDonald House provide free or low-cost lodging for families as their children receive treatment at local hospitals.
About ACN. Inc.
Founded in 1993, ACN is the world's largest direct seller of telecommunications, energy and other essential services for residential and business customers. ACN provides the services people need and use every day, including phone service, wireless, energy, merchant services, television, security and automation and High-Speed Internet. ACN operates in 26 countries, with offices in North America, Latin America, Columbia, Europe, Asia and the Pacific. For information on ACN's home-based business opportunity, visit acn.com.
About Ronald McDonald House Long Beach
Our mission: To provide a safe, affordable home-away-from-home for families of children receiving treatment in local medical facilities. Families are stronger when they are together. This is never more important than when a child is sick or injured. During this uncertain time, the presence of a familiar face eases the strain of medical uncertainty.