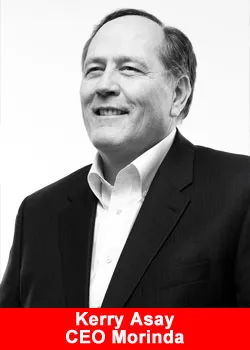 Morinda (Tahitian Noni) Sold For $85 Million
December 5, 2018
Morinda Holdings Inc. (Morinda), the world's leading authority on noni, has announced an historic merger with Denver-based New Age Beverages Corporation (New Age). New Age is publicly traded on NASDAQ (NBEV).
Consideration for the transaction will be $85 million, comprised of $75 million in cash and $10 million in New Age restricted stock based on the 40-day volume-weighted average price from closing.

The cash consideration for the transaction will be sourced from New Age's current cash balance. The transaction is expected to close in late December.
Known as the fastest-growing healthy beverage company in the world, New Age owns some of the world's most exciting brands, and holds key patents in the functional healthy beverage space.
Morinda is the world's leading authority on noni, the original superfruit. Morinda's flagship product, Tahitian Noni Juice, has been blessing the lives of countless people all over the world for more than 20 years. Tahitian Noni will be the premier brand in this new combined company along with TeMana and many new and exciting New Age brands (visit NewAgeBev.com).
The merger of these two great companies gives Morinda and New Age the ability to become the world's largest healthy beverage company.
"The combination of these two great companies is terrific news for IPCs, customers, employees and shareholders," said Kelly Olsen, Chief Commercial Officer.
"This merger will create the greatest opportunity and energy for Morinda since its founding in 1996."
The company name of Morinda will remain unchanged, as will all brands, products, business channels and distributor compensation structures. Kerry Asay will no longer serve as CEO of Morinda, but he and Stephen Story will remain founders of Morinda, and Olsen will serve as Chief Commercial Officer for both Morinda and New Age.
Brent Willis, the current Chief Executive Officer of New Age Beverages Corporation, will assume the position of CEO of the combined company. Willis is a graduate of West Point with an MBA from the University of Chicago. He has significant executive experience including senior leadership positions with Kraft Foods, ABInBev, and as an area President of Coca-Cola.
"This merger is excellent for both Morinda and New Age," Willis said. "Morinda adds New Age's portfolio of healthy and functional beverages to its network to drive further growth alongside its lead brand, Tahitian Noni. New Age adds significant scale and infrastructure to accelerate growth.
It is exciting to lead this company that has grown from $2 million to a combined company of over $300 million in two-and-a-half years. We still feel like we are just getting started, and are excited to work with our new associates from Morinda, and all of Morinda's IPCs all over the world, to build the world's leading healthy beverage company."
Morinda continues to be driven by its mission to transform lives by giving everyone in the world the three things they want the most: better health, better appearance and financial freedom. Morinda and New Age are now stronger than ever, and the new venture is poised to be the world's largest healthy beverage company driven by Tahitian Noni.
About Morinda
Morinda Holdings is a Utah-based healthy lifestyles and beverage company founded in 1996 with operations in more than 60 countries around the world, and manufacturing operations in Tahiti, Germany, Japan, the US, and China. The company is primarily a direct-to-consumer and e-commerce business and works with over 160,000 independent distributors worldwide.  More than 70% of its business is generated in the key Asia Pacific markets of Japan, China, Korea, Taiwan, and Indonesia.  As a standalone, Morinda would rank as the one of the top 50 non-alcoholic beverage companies in the world.
Morinda achieved approximately $240 million in revenue and $20 million in adjusted EBITDA in the trailing twelve months, representing approximately 5% growth versus prior year. Over 90% of Morinda's sales are driven by its lead brand, Tahitian Noni-Juice, and the majority of its revenue derives from four major markets including China, Japan, the US, and Germany.  Morinda's operations in China alone span 10 different offices, in 10 different provinces with more than 20% growth per year.
Morinda's direct-to-consumer model encompasses more than 160,000 individual distributors worldwide and over 700 associates in 60 countries.  The business is primarily a monthly subscriber-based model, fulfilled by a worldwide manufacturing and distribution network that includes owned and outsourced production in the US, Germany, Tahiti, Japan and China.
About New Age Beverages Corporation (NASDAQ: NBEV)
New Age Beverages Corporation (NASDAQ: NBEV), the Colorado-based healthy lifestyles company focused on becoming the world's leading healthy beverage company. New Age Beverages Corporation is a Colorado-based healthy beverage company based in Denver, Colorado. The Company operates the websites www.newagebev.com, www.newagehealth.com, www.mybucha.com, www.xingtea.com, www.drinkmarley.com, and www.cocolibre.com.
Get more information, fact and figures about Morinda, click here for the Morinda overview.