Ricky and Claudia Berry Achieve Diamond Rank With Valentus
December 12, 2018
By Team Business For Home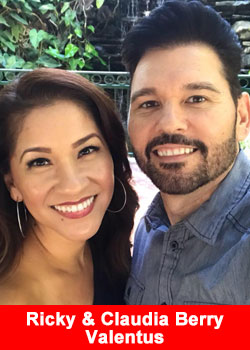 Ricky and  Claudia Berry from California, USA achieved the Valentus Diamond rank.
Upon their achievement they stated:
A common vision is what makes our marriage of 21 years and our business partnership so strong.
Originally, we were attracted to the network marketing industry because we wanted something that would allow us to work together.
The opportunity to work along side each other, build a business, plus the potential for unlimited income, was a perfect combination.
The next step was finding a company that was in alignment with our passion and our vision.
We found what we were looking for with Valentus. Now our dreams are not only for ourselves, but for our team. The leading edge products and simple compensation plan is what attracted us to Valentus from the start.
Within the first 30 days with Valentus, we achieved Diamond Rank. Something we wouldn't have been able to do without our team.
But we are not stopping there. This is just the beginning for us and our team. Throughout the years, self improvement and personal development have been important in our lives. Inspirational books, audios, and videos are a part of our daily routine. We are all about positive energy! Attitude and energy are everything. In business and in life, a positive outlook changes everything. We have been able to combine our individual strengths to make our business work effectively.
The reason we have been able to build our business smoothly is because we both have the same goal but possess different tasks. Being able to conduct business together as a couple and a family is not something everyone gets to do.
Not having to separate work from family is what makes building a business easy. Together, we have a clear vision of what we want to accomplish. Our son Kobe is 19 years old and has seen the opportunity with Valentus. His own goal is to be the youngest Diamond in Valentus. With focus and time, he will reach his goal soon!
Running a business as a couple comes with a lot of perks. We get to spend most of our time together and get the opportunity to grow with one another. A true home based business is amazing! To build a global business from the comfort of our own home, or wherever we decide means everything. We enjoy what we do everyday, and the ability to touch lives in a way that could be life changing is incredible.
We are so thankful to our leaders Dr. Chi Nguyen, John Haremza; and owners Dave and Joyce Jordan for this incredible opportunity. We are proud to be a part of Valentus, a family that shares our vision.
About Valentus
In Latin, the word "Valentus" means "prevail," defined as proving to be superior in strength, power, and influence. Recognizing that, we couldn?t have picked a more fitting name for a company that strives to be the example in an industry that deserves a leader to follow.
Since day one, our focus, our passion, and our commitment have been to create a company, a product line, and an opportunity built on a foundation of integrity.
From creating significant levels of income, to building strong networks, healthy long-lasting relationships, making new friends, participating in activities you never even knew existed, having the time to do the things you love with the people you love to be with, VALENTUS can help you PREVAIL in ALL of your goals! For more information please visit www.valentus.com