Sahajidah Hai-O 1,500 Top Leaders Gathered In Indonesia
December 18, 2018
By Team Business For Home
Sahajidah Hai-O Marketing, one of Malaysia's leading multi-level marketing companies, hosted a Gala Dinner for 1,500 delegates and guests from Malaysia & Indonesia and honored over 120 top entrepreneurs in Indonesia, at Jakarta Business Summit 2018 on December 12, 2018 at the Jakarta Convention Centre, Indonesia.
Over 800 top performance delegates flew in from Malaysia to attend the event and visit Jakarta's top destinations. It was a reward for hundreds of Sahajidah Hai-O Marketing's members in Malaysia who qualified for the campaign from June to August 2018, in order to build opportunities and long-term networks with top leaders in Indonesia.
As the world's 4th largest population, we see unlimited potentials to grow our business in Indonesia. Connecting 1,500 top Indonesian and Malaysian members, this will support the new venture of Indonesian people to scale up their entrepreneurial spirit and build a successful business through Hai-O,"
said Tan Keng Kang, Managing Director of Hai-O Group. The event featured a recognition night, sharing session from top members, and the rebranding of new corporate logo for PT Hai-O Indonesia.
Also present were Executive Chairman of Hai-O Group, Tan Kai Hee; Managing Director of Hai-O Group, Tan Keng Kang; Executive Director of Hai-O Group, Hew Von Kin; Director of Sahajidah Hai-O Marketing, Tan Kee Hock; General Manager of Sahajidah Hai-O Marketing, Tham Yoke Lon; General Manager of PT Hai-O Indonesia, Michael Chin; and Srie Martina.
Emphasizing direct-selling operations to focus on network marketing and established wellness products, Sahajidah Hai-O Marketing is a subsidiary of Hai-O Enterprise, a public-listed company on the Main Board of the Kuala Lumpur Stock Exchanges since 1996. It is also one of the first companies to receive the Direct Selling License and a pioneer member of Direct Selling Association of Malaysia in 1994.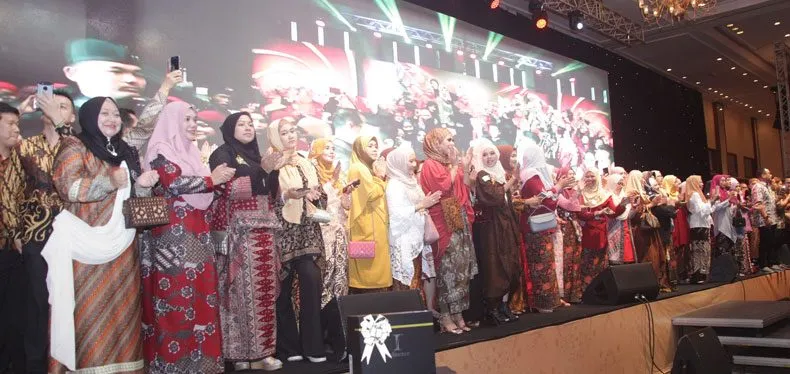 PT Hai-O Indonesia first entered the market in 2009. With extensive achievements over the past 26 years, including Forbes' Asia Pacific's Top 200 Small and Medium-sized Enterprises for 4 consecutive years and World Federation of Direct Selling Association (WFDSA) Global Code of Ethics Recognition Program 2012 & 2013, Hai-O is confident to position Indonesia in the top of the business.
"We have hundreds of million people in Indonesia to be empowered in this micro-entrepreneurial sector.

Direct selling in Indonesia will be way easier to innovate, as we have powerful penetration to the internet due to the rapid growth of mobile and social media users,"
added Tan Keng Kang.
About Sahajidah Hai-O Marketing
Sahajidah Hai-O Marketing has led the global market with its top selling products such as Hai-O Bamboo Salt – 100% authentic bamboo salt from Korea, and its bamboo salt coffee called Min Kaffe, which is formulated with Robusta coffee beans and bamboo salt.
Spanning Malaysia, Indonesia, Singapore, and Brunei, Hai-O plans to increase more businesses and cross border promotional strategies in a more exciting marketplace environment. Please visit: https://www.sahajidahhai-o.com.my and https://www.pthai-o.com/