Eric Gerilla Magtabog – A Fully Focused LEO Member From The Philippines
January 15, 2019
By Team Business For Home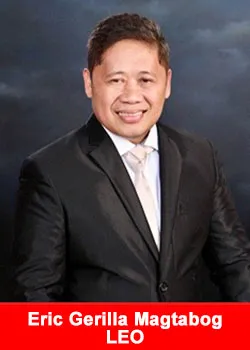 Since joining Learning Enterprises Organisation Ltd (LEO), a global entrepreneurship training company, in August 2015, Eric Gerilla Magtabog has risen to the distinguished rank of Senior Executive.
Indeed, this devoted family man has made a great success of his LEO direct-selling business and his hard work and dedication have earnt him the respect and admiration of top LEO leaders. In fact, with his sights set on expanding his team overseas, this is a highly motivated LEO Member who also has a mission to help others succeed along the way.
Based in Manila, in the Philippines, Eric has a deep-rooted belief in LEO and a passion for his work. Despite challenging family circumstances, with the ill-health of his son, such is his determination to succeed that he has still found time to build a booming business and is resolved to never give up. Indeed, his unwavering commitment is an inspiration to all, so to learn a little more about this industrious LEO Member, we posed Eric some searching questions:
How have you managed to make such a great success of your LEO business?
It is my passion and belief in the company and its system of working that has made me so successful in my LEO business, and I also think that LEO offers the most amazing products. I am fully focused on my goals and am completely committed to making my LEO business big. In fact, I plan to expand my team abroad, in 2019, especially in Hong Kong and Dubai where LEO has regional offices.
I strongly believe in helping others get ahead as well, and love what Zig Ziglar said,
'You will get all you want in life, if you help enough other people get what they want.'
In LEO we have a duplicatable system of working that can help a lot of people get what they want.  That's why I keep on going and will never stop running my LEO business.
What is it that you like most about LEO?
What I like about LEO is the stability, credibility and integrity of the company and the people behind it.At first, I was interested in its cryptocurrency, LEOcoin, then when I got to know more about the company and its vision, that interested me evenmore. The career path that the company designs for its serious Members and the travelopportunities it offers are also greatand Ibelieve that the LEO compensation plan is one of the best in the market.
How well does your work fit in with your family life?
I work full time in my LEO business, but most of the time I am home based and work online. This actually fits in perfectly with my family commitments, even though I am a husband and father to four children and am currently nursing my 20-year-old son who was diagnosed with severe heart failure.
In fact, it is my family that motivates me to do well in my LEO business. I would like to give them the best things that life can offer.
Has joining LEO changed your life for the better?
Yes, LEO has definitely changed the lives of myself and my family for the better. In fact, my life goals have become easier to achieve because of LEO! It was on my bucket list to travel the world with my wife and children, and LEO has helped me to achieve this.
In a very short period of time, by working at my LEO business seriously and consistently, I was able to take my whole family on a cruise last year.
I was also on top of the world, literally, last February when I qualified to attend a fantastic Executive Trip in Nepal, as a reward for achieving Executive rank, and went to Mount Everest.
In addition, after qualifying to attend the LEO Global Annual Conference, I enjoyed eight days on the beautiful island of Mauritius, where it was held, and my wife and I celebrated our 25th wedding anniversary in the United Kingdom when I qualified to attend a Leaders' Summit there.
What would your advice be to someone who is thinking of starting a direct selling business?
First, you should look for a company with a realistic and doable system of working, that can make your goals anddreams come true;second,be 100% committed and focused on working hard at the business; third, be consistent; and, lastly, never, ever quit!
 About LEO
Learning Enterprises Organisation Ltd (LEO) is a global entrepreneurship training company which uses personal recommendation to introduce Members to its products and services. Established in 2012, LEO now has 300,000 Members in more than 140 countries.
LEO has a unique programme which helps people to LEARN, with the training products it provides, EARNat the same time, by marketing these products, and also has a selection of ownership award programmes that help Members achieve their dream to OWNa successful business. LEO provides full training and support for all its new Members, including a helpful 'Getting Started Guide', which contains an invaluable system to follow to get their businesses off to the best start, referred to as the #LEOSYSTEM.
LEO's core products are designed to help people start their own business – eLearning, Live Seminars and Technology. LEO believes that everything is moving to the mobile platform. In response, LEO has developed apps that replicate its Member Back Office system and Marketing collateral support.However, the LEO Ecosystem does not stop there, as it also includes a digital currency, LEOcoin, a crowdfunding platform, LEOcrowd, and a property investment crowdfunding platform, LEOpropertycrowd.