Isagenix Launches IsaBiome
January 14, 2019
By Team Business For Home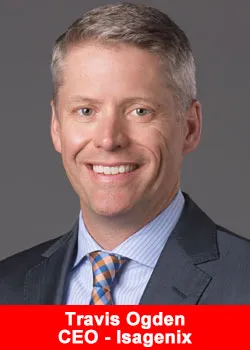 Isagenix International, known for its transformational weight loss products and solutions, is now helping customers transform their gut health.
The global health and wellness company just launched IsaBiome™ Daily Digestive Health System, which features probiotics and digestive enzymes that complement each other to support better daily digestion of meals and long-term gut health.
The products were designed to align with customers' everyday diets and are available in a conventional-diet formula for individuals with meat-inclusive diets and a vegetarian-diet formula for individuals with vegetarian diets.
"By taking a science-backed and solutions-driven approach, Isagenix has created a comprehensive and targeted digestive support system that delivers results unlike anything on the market,"
said Isagenix Chief Science Officer Robert Kay, Ph.D., the architect of IsaBiome. Kay created the line using his expertise from 30 years of studying digestive health.
"We couldn't be more excited to introduce IsaBiome to not only customers but also the direct selling and health and wellness industries."
The new product line, which can be used in conjunction with Isagenix weight loss products, launched today at the company's New Year Kick Off 2019 event in Phoenix.
IsaBiome Probiotics and IsaBiome Digestive Enzymes were designed to be purchased together in the IsaBiome Daily Digestive Health System, as the supplements work with each other to achieve immediate and long-term benefits, but they can also be purchased separately. For now, they are available only in the United States and Puerto Rico.
Isagenix is pursuing plans to offer the products in other markets where it operates.
About Isagenix International
Established in 2002, Isagenix provides systems for weight loss, performance, vitality and well-being, personal care and beauty, and financial wellness. With nearly 600,000 customers worldwide and more than 100 life-changing products, packs, and systems globally, the company is committed to producing Solutions to Transform Lives™.
Since its inception in 2002, Isagenix has generated $6 billion in cumulative global sales through a network of independent distributors in the U.S., Canada, Puerto Rico, Hong Kong, Australia, New Zealand, Taiwan, Mexico, Singapore, Malaysia, Colombia, Indonesia, the United Kingdom, Ireland, the Netherlands, Belgium, Spain, and South Korea. Isagenix is a privately owned company with headquarters in Gilbert, Arizona.
For more information, visit Isagenix.com.