Nerium International Rebrands As "Neora"
January 17, 2019
By Team Business For Home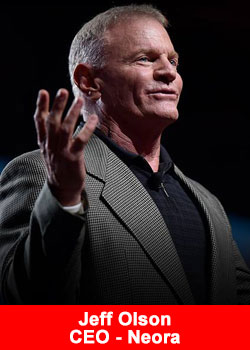 Nerium International is changing its name to Neora™ as part of a global rebrand that reflects the company's evolution as a relationship marketer and vision as an anti-aging industry leader.
Neora announced the change during its "History in the Making" event on January 10. The transition to Neora will become official on February 1.
"Neora represents a new beginning for us as a company,"
says Neora Founder & CEO Jeff Olson.
"We're taking all of the experience we've gained in the previous seven years, hitting the reset button, and creating something even better."
The new Neora will have a fresh, modern look as well as an improved, forward-thinking compensation plan that rewards its Independent Brand Partners for building their businesses and acquiring customers.
"We're proud of our high customer-to-distributor ratio,"
says Co-CEO Deborah Heisz,
Why Neora?
When Nerium International launched in 2011, the company name was associated with an ingredient (nerium oleandrin extract) in its first product. Now that the company has expanded to offer a wide range of holistic innovative age-fighting skincare and wellness products that use advanced technology and expanded internationally, the name no longer applies.
Neora also re-packaged its products using recyclable options whenever possible and reducing the amount of packaging per product to reduce its overall carbon footprint. In addition to Neora's current lineup of innovative skincare and wellness products, new novel products with exclusive ingredients are also in development and will be launched at Neora's annual Get Real conference, scheduled for April 25–27 in Nashville.
Neora is symbolic of a new aura, or new energy, and represents a more comprehensive direction the company is taking in its product offerings and global expansion.
"The new name of Neora better describes what we are as a company now, and where we expect to go in the next several years,"
Olson says. "We have evolved into a company that is so much more than one ingredient."
About Neora
Based in Addison, TX, Neora is a global relationship marketing company with age-fighting products crafted from cutting-edge research and science. Founded in 2011 as Nerium International, Neora has shattered industry sales records while developing a strong customer base in North American, Latin American, Asia-Pacific and European markets.
Neora is committed to providing an excellent product line based in real science and providing its Independent Brand Partners with a life-changing and outstanding business opportunity through relationship marketing.
For more information, please visit: www.neora.com