Stella And Dot Closes European Operations
January 9, 2019
By Team Business For Home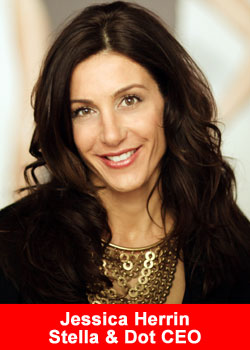 Direct-sales jewelry company Stella & Dot will exit Europe as the weakening pound and euro cut into profits.
The company, whose business model involves individuals selling accessories to their social networks through websites and trunk shows, will end its European sales on April 7.
After that date, members — called stylists — won't be able to sell product or earn commissions, according to a letter from founder Jessica Herrin posted on social media.
The euro has dropped 4.4 percent against the dollar over the past 12 months, while the pound is down 6.3 percent. The weakening currencies have caused a once-profitable business to operate at a loss in Europe, according to the letter.
 "Hoping for the economic climate to recover, we continued to invest in our European business,"
Herrin said in the letter.
"However, as the market remains uncertain into 2019, we have had to make this difficult decision."
Political uncertainty in many parts of Europe, falling shopper confidence, an unclear Brexit plan and the potential for rising interest rates has made for a challenging retail environment in the region.
Stella & Dot, whose investors include Sequoia Capital, launched under its current name in 2007. It expanded to the U.K. and Germany in 2012.
---
Jessica Herrin's letter:
Dear European Stella & Dot Stylists,
As we step into 2019 we are steadfast in our belief in our mission, business and community.
Helping women earn flexible income in Europe has been a labor of love. However, after countless deliberations, it is with a heavy heart that I announce we will be exiting the European market.
Sadly, the market conditions in Europe have become very difficult. In the last few years, the British Pound and Euro have devalued against the US Dollar by almost 20 percent, causing a deep decline in our margin, while at the same time operating costs increased.
Our once profitable European business has been operating at a loss. Hoping for the economic climate to recover, we continued to invest in our European business. However, as the market remains uncertain into 2019, we have had to make this difficult decision.
It is of the utmost importance to us to exit the European market gracefully, for both you and our customers. You will be able to continue to sell product and earn commissions per our Compensation Plan until 7th April 2019.
You will also continue to earn team sales commissions and we will honor all promotions through 7th April 2019. You will then have access to your Stylist Lounge and reports through 17th May 2019.
For more details we welcome you to use these support resources and invite you to join one of our Video Zoom Chats so we may share our gratitude for you, our sadness for this news and our firm commitment to help you throughout this transition.
We want to thank you for being our partners throughout this journey. We are honored to have collectively helped European women earn significant income over the past seven years.
We have laughed, cried, danced, achieved and celebrated together. It has been an extraordinary adventure. I would like to personally wish you every success in the future with all of my heart, and I thank you for daring greatly with us.
WITH LOVE,
JESSICA HERRIN
---
About Stella & Dot
Stella & Dot is a boutique-style jewelry and accessories company reinventing the home-based, flexible entrepreneurship opportunity for the modern woman through its social-shopping business platform.
Stella & Dot offers its on-trend, celebrity and editorial-coveted product line exclusively through a growing network of trained independent consultants (Stylists) across North America, the United Kingdom, Germany, Ireland and France.
With a mission to give every woman the means to style her own life, Stella & Dot celebrates the collective spirit and recognizes its leaders through executive training, exclusive sales rewards, and a community that gives back to our home and abroad. Stylists earn sales commissions by selling at private in-home trunk shows and online with a best-in-class and innovative technology platforms.
For more information, visit www.stelladot.com