bmôr Global Announces Partnership with TV Fitness Celebrity Christmas Abbott
February 19, 2019
By Team Business For Home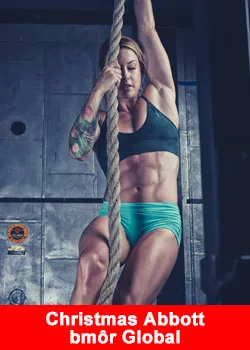 bmôr global is excited to announce partnership with fitness celebrity, professional athlete, best-selling author and total badass, Christmas Abbott.
Introduced to the company just before the birth of her first son, Loyal Atticus, Christmas was surprised at the newfound energy and stamina she had from just a few pouches of Elevate™.
"I thought my life was busy before, but as a new mom, now I'm really learning what busy is all about.  Elevate™ is a convenient and natural way to boost my energy during my rigorous workouts and conquer my day."
Christmas is also an Author, Olympic Lifter, Fitness Trainer, TV Personality & Reality Star, NASCAR Pit Crew member, and as anyone would say who's ever seen her in a gym,a "total Badass".
She plans to introduce her new "secret energy booster" to her 1.5 million fans on social media.
Christmas joins a growing group of worldclass and professional athletes who have chosen to tear into their day with bmôr and Elevate™.
About bmôr global
bmôr creates a compelling opportunity for people looking for a healthy, vital life, surrounded by like-minded community.
Launched Summer 2018, the company produces health and beauty products including its Elevate™ Nitric Oxide Booster and Super Resveratrol Antioxidant, URBRU Uniquely Roasted and Patented organic coffee, and the OREVE line of anti-aging skincare products.
bmôr currently operates in the U.S. and Costa Rica, with teams launching in Vietnam, Hong Kong and Mexico. For more information please visit www.bmorglobal.com