Lisa Griggs From The USA Achieves Diamond Director With Jeunesse
February 17, 2019
By Team Business For Home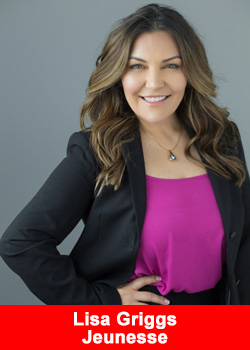 Starting at the age of 10 helping others achieve joy and prosperity in their lives, Lisa Griggs knew it would only be a matter of time before she was successful.
Her first start-up at age 20 became the largest, fastest growing business in its category.
A mother with three children who found herself broke, divorced, homeless and living on welfare a few short years ago,
Lisa is now a Diamond Director at Jeunesse with 28,000 distributors in her network.
She believes everyone has the ability to achieve their own dreams if they learn to embrace obstacles, stay focused and instill confidence in others. Lisa stated upon het achievement:
Everyone is just one person away from stepping into their destiny.

I've been in direct selling for years and found my best home with Jeunesse.
I've always believed in myself, remained authentic and inspired others to leverage their own potential.
Too often we end up defeated by life, as if we've hit a brick wall trying to follow our dreams.
Discipline, training, and poise are among the strategies I teach my network. Believe in yourself, visualize, and never give up!
Prior to network marketing, I was more comfortable with failure than success.

Soaring from welfare-to-wealth, Jeunesse has enabled me to travel, support my family, build my dream house, help others achieve their goals, make new friends for life. 
 About Jeunesse

Jeunesse is a global direct selling company with a mission to positively impact the world by helping people look and feel young, while empowering them to unleash their potential. The company's exclusive skin care and nutritional products form a comprehensive Youth Enhancement System.
With multilingual customer service, back office support and a global enrollment system, Jeunesse utilizes a cutting-edge platform to share innovative products, training and support through 32 fully operational offices to markets in over 140 countries.
Learn more at www.jeunesseglobal.com.