MCV-Cap Prepares The Roll-Out Of The Blockchain Banking Business With The Support Of The Tycoon 69 Network
February 1, 2019
By Team Business For Home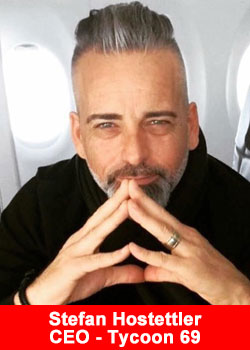 According to a MCV-Cap and Tycoon 69 press release:
Opportunities in the banking business:
The banking landscape is changing significantly in response to customer expectations, regulatory requirements, technology, demographics and new competitors. If a new bank were to master all these new challenges, it would indeed be revolutionary and could quickly secure a huge market share.
Banking of the future must be simple, easy to access and above all cheap and fast. To do this, banks need to be able to provide APPs and online payment options for all FIAT & crypto currencies, as well as other assets (gold, silver, stocks etc.) in the simplest and easy-to-use way.
New Fintech banks such as N26 and Revolut are already making life difficult for traditional banks and reclaiming thousands of customers every day. However, they are focused on just a few products and still cannot provide a comprehensive solution to the above challenges and customer expectations.
Since the middle of last year, a completely new fintech banking project is attracting attention. MCV / BCB4U, as a fintech newcomer to the banking sector, can finally bring fresh wind into the banking landscape. With their in-house developed banking and Blockchain software tools they can make all currencies (Fiat & crypto) available for daily use.
This means that crypto currency owners today have to convert their crypto currencies to FIAT currencies for payments to landlords, suppliers, etc. in order to pay their bills via SWIFT transfers.
The software solutions developed by MCV-CAP will in future enable every customer (of any age, income or origin) without any intervention to use all currencies (FIAT & crypto) for payments (rent, electricity, gas, online and shop purchases) to use. The unique thing about it is that the customer himself determines in which order which currencies are used first for payments – the rest is done by the software!
Even switching back and forth between different crypto currencies is done in a very easy way by simply moving back and forth between the wallet buttons. The question about the amount is confirmed by fingerprint, iris scan or mobile TAN. This "on the fly" concept is processed by the in-house software.
This will revolutionize banking services and inspire customers. Investors should raise sufficient funds to implement an unprecedented banking concept. The basis for this is either the purchase of an existing bank or the application for a new full banking license.
An ICO launched in mid-2018 is intended to mobilize the crypto community and already provide the basis for a high number of customers.
All these people are experienced and renowned bankers, software experts and managers of top companies and high-tech companies.
Egon Putzi is considered as the technical brain behind the project. In the 90s of the last century, he brought the high-tech company "SEZ", based in Villach, to the Swiss stock exchange in an IPO of several hundred million Euros.
It is planned to establish a Fintech as a newcomer to the banking sector, which should quickly gain market share through easier implementation of technologies, products and distribution channels compared to the established banking competition.
The intention is to create an online bank called "BCB4U Bank AG" with flexible SWIFT / SEPA banking software and an interface to Blockchain technology. The goal is a transaction-free service bank that will make the high efficiency of the Blockchain technologies and crypto currencies available for people's daily use.
Thus, in addition to traditional banking services, the bank should also offer insurance and products such as electricity and gas, telephone, Internet, etc., but also make crypto currencies perfectly usable in daily us, and in a conventional way (so-called "FIAT): The so-called "Power Wallet" enables the account holder to access all his assets of his various accounts, including crypto currency accounts, at the moment of the desired transaction.
A free account for the customer as well as a free debit card is probably no longer a special feature: some online banks already offer such things. In addition, the BCB4U bank will spoil its customers with a comprehensive cashback system: This means that for each debit card purchase, every product purchased through the bank, etc., the customer receives a percentage increasing amount of money credited (depending on the number of products) .
In addition, the new bank will issue its own coin, the "BCB4U coin", which will be used as the loyalty cashback currency for all products offered. That is, for each credit card payment and product used, the aforementioned cashback payments will be made to customers in the future BCB4U coin. As a logical consequence, this coin will represent a highly demanded accounting unit.
The SEPA / SWIFT banking software has been in development (Blockchain, NFC, loyalty / cashback) or further development (SEPA) for years and is already in use in EU banks.
New sales concept
A further success criterion seems to us to be the absolutely new sales concept. A combination of online banking with franchise stores (which is to be quickly extended beyond national franchises to numerous countries) and reputable mobile banker sales (up to 1 million partners worldwide who are to acquire up to 100 customers/mobile bankers) seems to promise unprecedented customer growth.
For these mobile banker sales, an own mobile banker app is developed, which will ensure training, further education, certification, quality control, KYC processes, automated customer acquisition etc.
Absolute seriousness is demanded by the future Mobile Banker distribution network.
As early as 2018, the MCV management decided to cooperate with the newly founded company Tycoon69 AG in Switzerland.
They did not want to cooperate with existing network marketing companies but to cooperate with sales people who believe in the business model and who are willing to spend time, money and, above all, to invest perseverance in a professional, ongoing training and further education concept in order to meet the needs of a bank sales.
The Juvet family and Stefan Hostettler embody exactly this readiness for quality and guarantee with their name the long-term and successful cooperation.
In a very short time, 10,000 sales partners have been set up, but also investors and prospective customers for the national franchise licenses have been transferred to the MCV management.
For customer information and acquisition, the Mobile Banker Network will be a significant success component.
CURRENT STATUS OF THE MCV-CAP BLOCKCHAIN / HYBRID BANKING
To the question, how far the implementation of this very interesting project is actually already, the company representatives refer to current ICO (until 31.03.2019) regarding the financing: there are already extensive funds on the company accounts received. On the other hand, it has been possible to acquire share investors who will participate directly in the share capital so that the financing of the project will be ensured.
BANKING LICENSE
This is currently being worked on with the highest priority – the future management board and supervisory board have been fixed with top bank experts – several potential institutions have been identified for the acquisition of a bank with which closer and more concrete discussions are being conducted for a takeover.
For 2 potential takeover candidates, due diligence was completed and an indicative purchase price was sent to the owners. For the execution and support of a bank, one of the "Big Four" accounting firms was commissioned. At the same time, the question of applying for a new banking license is being intensively addressed in order to have an alternative in hand should the acquisition negotiations fail.
In any case, one thing is certain: the bank's headquarters should be in Austria or Germany (only in exceptional cases would one move to another EU country) in order to underline the high and highest quality standards of the project operators. Management has repeatedly emphasized that the goal is to meet the strictest security and seriousness requirements in every way.
The label "Made in Austria" is a central concern in order to clearly distinguish itself from many less serious projects.
For more information please visit www.tycoon69.com