MyDailyChoice – Hempworx Broke All The Rules
February 20, 2019
By Team Business For Home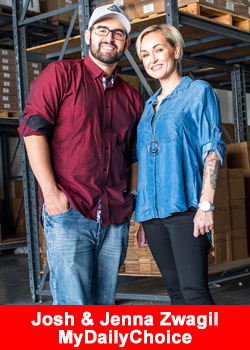 Founders, Josh and Jenna Zwagil, broke all the rules of Networking Marketing when building MyDailyChoice, a Triple A classified Opportunity by Business For Home, the highest rank, yet they succeeded anyway.
You're not supposed to build the field before building corporate, but they did.
You're not supposed to make $100 million in your fourth year, but they did.
You're not supposed to pay out 85% of business volume to your affiliates, but they do.
 How? Over the next few weeks, they'll be sharing their insight in a series of articles here at Business for Home. But for now, let's look at those broken rules and how Josh and Jenna succeeded by disrupting industry norms.
3 Golden Rules MDC Shattered:
Rule #1: Status Quo Leadership
It's no secret that in the Network Marketing Industry, like so many others, leadership tends to skew older and male.
Not so with these founders. Josh began his career in Network Marketing at just 18, and built MDC before the age of 25. Jenna remains one of a rarefied breed of women leaders in the industry, and before beginning her career in sales and marketing she spent several years in the military as both a soldier and a spouse.
Because neither of the Zwagils are career executives, they have a disruptive mindset. The Zwagils believed it was important to lead their teams from the front, in the trenches rather than behind their computer screens in an ivory tower.
They don't look at how things are done and imitate, they imagine how things could be and create.
Rule #2: Corporate First, Field Second
Part of Josh and Jenna's success comes from starting in the field as young network marketers. As they have built the company, they have designed it with the affiliates' needs and success in mind. Rather than pouring resources into an elaborate and heavily-staffed corporate office, they ask themselves "What did we want when we were affiliates?"
 Josh and Jenna wanted their company to pay fair wages and provide superior products without taking large pay cuts from the affiliates to support the corporate operation.
By maintaining a relatively minimalist approach to the corporate office, handling fulfillment in-house, and leveraging top tier merchant relationships and superior software, MDC is able to do things like pay out 85% BV to affiliates.
Rule #3: Business First
Josh and Jenna put people first, plain and simple. They didn't build the business and then try to attract people to it. They built a community and a movement, and then created the business for the community. Instead of treating the affiliates as a tool for achieving corporate success, MDC puts affiliate success at the center. It's creating a new normal in which every voice in the field counts.
Josh and Jenna believe that by focusing on and taking care of the people, the business will succeed.
About My Daily Choice
At MyDailyChoice, we are 100% committed to providing our independent business owners and customers with the most attractive and highest quality product lines within top-trending industries.
Our mission is to empower families around the world through good health, financial opportunities and the smart daily choices that can deliver both. That is why we provide an unprecedented compensation plan and a unique and innovative line of products made with the highest quality CBD oil, grown and manufactured right here in the US.
MyDailyChoice was founded in 2014, merged with HempWorx in 2017, and is currently headquartered in Las Vegas, NV. Under the leadership of Founders Josh and Jenna Zwagil, MDC reached $100 million in sales in 2018.
For more information please visit www.mydailychoice.com and www.Hempworx.com