Nu Skin Q4 Revenue 2018 Up 3% To $683 Million
February 15, 2019
By Team Business For Home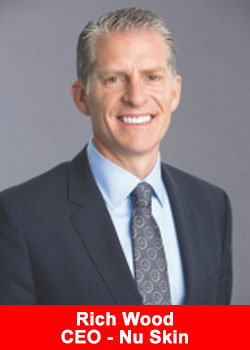 Executive Summary
Q4 2018 vs. Prior-Year Quarter
 Revenue:

$683.3 million, +3%
(4%) fx impact or ($26.8 M)

 Earnings Per Share (EPS):

($0.32), or $1.05 excluding impairment and restructuring charges, compared to $0.33, or $1.20 excluding the impact of U.S. tax reform in Q4 2017
($1.37) impairment and restructuring charges

 Sales Leaders:

73,400; (10%)
Up 16% since the end of Q1 2018

 Customers:
"We are entering 2019 with strong momentum and are projecting meaningful constant-currency top-line growth with continued improvement on the bottom line,"
said Wood.
"We believe 2019 will be a pivotal year as we transform our digital platform to better support customers, while further enabling our sales leaders to leverage the power of social selling. Our product portfolio remains strong, and we plan to build on the breakout success of our LumiSpa skin treatment and cleansing device with the launch of LumiSpa Accent, a specialized eye treatment attachment.
On the program front, our Velocity enhanced sales compensation program has now been rolled out in nearly every market, providing us with ongoing flexibility to drive and reward key behaviors from our sales force. We believe we can continue to grow our business and look forward to a strong 2019," Wood concluded.
"Coming off a strong year, we are projecting continued growth in 2019," said Mark Lawrence, chief financial officer. "We project first-quarter revenue of $615 to $635 million, including an approximate 5 to 6 percent negative currency impact, and earnings per share of $0.70 to $0.77.
For the year, we are projecting annual revenue of $2.76 to $2.82 billion with a projected 2 to 3 percent negative foreign currency impact and earnings per share of $3.80 to $4.05. We look forward to providing additional details regarding our guidance and 2019 growth initiatives at our investor day event which will be held Feb. 28 at our headquarters," concluded Lawrence.
About Nu Skin Enterprises, Inc.
Founded more than 30 years ago, Nu Skin Enterprises, Inc. develops and distributes innovative consumer products, offering a comprehensive line of premium-quality beauty and wellness solutions. The company builds upon its scientific expertise in both skin care and nutrition to continually develop innovative product brands that include the Nu Skin® personal care brand, the Pharmanex® nutrition brand, and most recently, the ageLOC® anti-aging brand.
The ageLOC brand has generated a loyal following for such products as the ageLOC LumiSpa skin cleansing and treatment device, ageLOC Youth nutritional supplement, the ageLOC Me® customized skin care system, as well as the ageLOC TR90® weight management and body shaping system. Nu Skinsells its products through a global network of sales leaders in Asia, the Americas, Europe, Africa and the Pacific.
As a long-standing member of direct selling associations globally, Nu Skin is committed to the industry's consumer guidelines that protect and support those who sell and purchase its products through the direct selling channel. Nu Skin is also traded on the New York Stock Exchange under the symbol "NUS."  More information is available at nuskin.com.