Abby Lovell Achieves Diamond Rank With Valentus
March 12, 2019
By Team Business For Home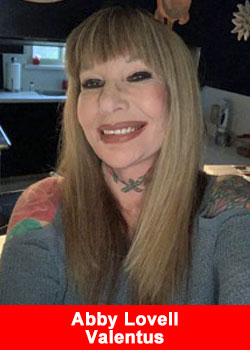 Does this sound incredible? Abby Lovel just made Diamond after only 10 months in the business.
She doesn't like coffee, this is her first company, she was not introduced to the business by anyone, never even heard of network marketing, found Valentus on the internet while researching energy drinks, and never talks about anything but the business pack?  Now, she does drink Optimum Coffee, through a straw, to stay thin.
Abby is from a very small town in Bass Lake, California.
"Most of my database is cold market so I lead with the business opportunity~ it's by far the easiest thing to share because you don't have to teach people to drink coffee. 

Who doesn't have room in their bank account for more money?"
At 59, Abby Lovell feels as if she has found her purpose in life.  Now she's doing exactly what she was meant to do.
She loves the business and loves helping people.  Does she really love the business?  Only the company, the founders, the leadership, the compensation plan and the products.
Abby has been amazed at the ease of helping people see their dreams become their reality.  What's most amazing is that she could not think of a single challenge.
About Valentus
In Latin, the word "Valentus" means "prevail," defined as proving to be superior in strength, power, and influence. Recognizing that, we couldn?t have picked a more fitting name for a company that strives to be the example in an industry that deserves a leader to follow.
Since day one, our focus, our passion, and our commitment have been to create a company, a product line, and an opportunity built on a foundation of integrity.
From creating significant levels of income, to building strong networks, healthy long-lasting relationships, making new friends, participating in activities you never even knew existed, having the time to do the things you love with the people you love to be with, VALENTUS can help you PREVAIL in ALL of your goals! For more information please visit www.valentus.com