Holton Buggs Launches iBuumerang — Thousands Join First Day
March 10, 2019
By Team Business For Home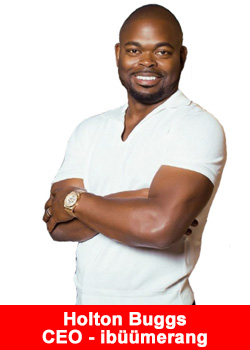 According to a company press release:
Houston, Texas — The Network Marketing industry is poised for a major shift as Holton Buggs launches a brand new company, named iBuumerang.
Mr. Buggs has long been considered the Michael Jordan of Network Marketing.  Not only has he been a leader and visionary on the corporate side, but he has earned the largest commissions ever from a single position. Those closest to him consistently talk about his generosity, passion and desire to bring network marketing to a higher level.
With the launch of iBuumerang, Holton Buggs is changing the model in network marketing to a customer-centric model, offering consumers a first-class experience, thereby creating the network marketing industry's first Perpetual Residual Income Builder (PRIB).
Ambassadors in iBuumerang only earn income when customers save money.  This is a radical departure from the past, when customers typically pay more for network marketing products because of the markup necessary to justify commissions.
To bring this vision to fruition, iBuumerang is launching in the travel space.  Travel is an eight trillion dollar industry, and virtually everyone either already travels or wants to.
Rather than paying retail or even discounted prices, iBuumerang Travel Savings Ambassadors and their customers have access to "behind the curtain" pricing that the public online travel agencies such as Expedia, Travelocity and Priceline don't offer.
The savings are dramatic, ranging between 10% to as high as 70% off those retail prices on hotels, car rentals and more.
Sophie and Johnny Chung were visiting Holton Buggs in Houston and stayed for a week at the Westin Galleria. On that one trip, they saved right around $1000.  That was enough for them to realize that this opportunity should be taken around the world, and specifically to their friends and family in South Korea.
"It's time for the network marketing industry to evolve,"
says Holton Buggs,
"and we will lead the way, launching in the most exciting industry in the world – travel." 
Additionally, iBuumerang has partnered with Xstream Travel, a well-known and highly respected travel giant, to offer iBuumerang Ambassadors the ability to earn travel bonuses for referring group travel, such as destination weddings, church groups and family reunions, to Xstream.  Xstream will also create and provide highly discounted and exclusive experiences and member-only trips to iBuumerang.
The public brand reveal lift-off Global Opportunity Day is generating record-breaking interest around the globe.  Not only have the tickets for the event in Houston sold out, but "Watch Parties" are scheduled to view the live-stream all over the world.  Conservatively, iBuumerang anticipates adding over 10,000 Travel Savings Ambassadors in the company during the first week, beginning on March 11, 2019.
About ibüümerang
Launched in March 2019, ibüümerang is fast becoming a global leader in the travel and direct selling space. The mission of ibüümerang is simple: deliver good will in the form of travel savings and reward our Travel Savings Ambassadors (TSAs) with travel savings bonuses in cash. The vision is to create a consumer-centric model focusing on an exceptional customer journey and experience.
By creating a worldwide movement of TSAs, we will empower people from all around the globe to live life to the fullest, earn residual income via the PRIB (Perpetual Residual Income Builder) and leave a legacy to future generations.
For more information on ibüümerang, its Chairman and CEO Holton Buggs, its top tier executive team and its revolutionary travel program, please visit the company website at www.ibuumerang.com.