How MyDailyChoice Started With A Vision To Support Affiliates
March 7, 2019
By Team Business For Home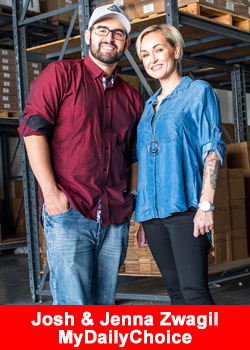 The mission of MyDailyChoice (MDC) is to empower families around the world through good health, financial opportunities and the smart daily choices that can deliver both. That mission isn't just what guides MDC's business every day, it predates the business.
MyDailyChoice began with a vision to support the success of affiliates.
When Josh Zwagil first launched MDC in 2014,  Jenna became one of the first affiliates. She dove in head first with something to prove. In the first month, she made over $6,000, and this year she was identified as the third top income earner in the industry.
She proved that the compensation plan and the duplicatable system that Josh designed worked, if the affiliate was willing to bring passion and work ethic.
Jenna eventually resigned her position as affiliate after reaching the highest rank in the company, Super Affiliate, and now mentors countless others on their paths to success.
HempWorx, the most popular product line of MDC, was not a planned addition.
Josh and Jenna didn't set out to create a line of CBD products. Jenna experience such drastic improvements after trying CBD that she became determined to make the same life-changing experience accessible to others. Josh was hesitant to get on board, concerned that controversy around the hemp industry would get in the way of the work they were already doing.
So Jenna, went out and founded HempWorx on her own. The response to the products was immediate and overwhelming.

Within months, HempWorx was so popular and successful that Josh couldn't deny that the best thing for both businesses was to merge.
MDC believe that when people are given the right tools (the right products, the right system, the right compensation plan) they can change their lives, because our Founders are living proof.
The success of MyDailyChoice's mission is evident in the thousands of testimonials from customers and affiliates expressing that they are feeling better, and living better, than they ever have before.
That is what inspires the Founders, Josh and Jenna, to continue expanding the business, always with the high standard that each new product or tool will help people lead better lives.
About MyDailyChoice
At MyDailyChoice, we are 100% committed to providing our independent business owners and customers with the most attractive and highest quality product lines within top-trending industries.
Our mission is to empower families around the world through good health, financial opportunities and the smart daily choices that can deliver both. That is why we provide an unprecedented compensation plan and a unique and innovative line of products made with the highest quality CBD oil, grown and manufactured right here in the US.
MyDailyChoice was founded in 2014, merged with HempWorx in 2017, and is currently headquartered in Las Vegas, NV. Under the leadership of Founders Josh and Jenna Zwagil, MDC reached $100 million in sales in 2018.
For more information please visit www.mydailychoice.com and www.Hempworx.com