iBüümerang – Holton Buggs – Announces Corporate Staff At Pre-Launch Event
March 20, 2019
By Team Business For Home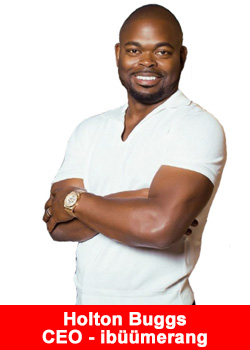 Those who arrived on Friday night March 8 in Houston, TX at the home of Holton and Earlene Buggs had no idea what to expect. 300 Guests were invited to the "brand-reveal" which happened early in the "Havana Nights" themed party.
To dancers, music, and food, everything was in place for a reveal that no one could have expected. And finally . . . BOOM (or I should say BÜÜM): a fireworks display that rivals many city's best efforts on Independence Day. Yes, the brand was revealed during a fireworks show to Queen's "We are the Champions" and suddenly, ibüümerang was born.
The next day, the brand was revealed to the public. More than 2000 people purchased tickets in advance to learn about a company whose name had not yet been revealed.
By the end, the BÜÜM was deafening.  The crowd was thrilled and ibüümerang entered pre-launch. Capping the two days of the launch, Founders  were treated to a Saturday night party, the likes of which have never been seen in network marketing.  Acrobats, dancers, an entire cirque theme, entertained the ibüümerang Founders till late that night.
With the launch of ibüümerang, the world of network marketing has at least one eye watching carefully on each move Holton Buggs makes. Holton, has long been considered one of the few magnets in the network marketing industry, able to attract people from all walks of life, and he has set his sights on bringing the entire industry to levels of professionalism not previously seen before. To that end, Holton Buggs will lead ibüümerang as President and CEO, and has announced top-tier leadership.
As the Vice President of Business Development, Mr. Buggs chose Terrence Gray, affectionately known as T. Gray. T. Gray has over 25 years of experience in creating significant success globally for internet startups, corporations, and direct-selling organizations.
As an executive in the advertising and internet startup industry, he has held Executive positions in multiple companies.  His pedigree includes J. Walter Thompson Advertising, Newsweek Magazine, and Lycos.com. In the direct-selling industry, he has become a top earner and award winner with three different companies.
To fill the critical position of Vice President of Marketing, Mr. Buggs chose Mark Kithcart. Mark has over 25 years of experience in generating growth and revenue for multiple companies in various industries.
As an executive in the SaaS technology industry he has held marketing and leadership roles in several organizations such as Agilent Technologies, CDK Global, AVRS, Democrasoft and Siemens Dematic. Mark has worked with marketing platforms that use the most advanced marketing automation and AI (Artificial Intelligence) technologies, and he is very excited to bring that knowledge to ibüümerang.
Crucial to Mr. Buggs is that the company begin with both the philosophy and action of giving. To accomplish that, Mr. Buggs brought on Peter Hirsch as the Chief Giving Officer of The BüüM Foundation.  Peter has over 30 years  of experience as an attorney, pastor, author, and Master Distributor.
A passionate social entrepreneur, Peter is the author of five books, the latest of which went to Number One on Amazon within days of its release. He received his Doctorate in Ministry in 2001 and has developed leadership programs for business leaders and pastors in over fifteen nations around the globe.
The BüüM Foundation will attack the issues of childhood poverty and childhood malnutrition through partnerships with multi-national aid organizations. To lay the foundation before even a single penny was taken in, The BüüM Foundation has already donated all the necessary funds to build a playground in Zambia in partnership with Children International.  The playground will serve over 4,700 hundred children in Lusaka.
About ibüümerang
Launched in March 2019, ibüümerang is fast becoming a global leader in the travel and direct selling space. The mission of ibüümerang is simple: deliver good will in the form of travel savings and reward our Travel Savings Ambassadors (TSAs) with travel savings bonuses in cash. The vision is to create a consumer-centric model focusing on an exceptional customer journey and experience.
By creating a worldwide movement of TSAs, we will empower people from all around the globe to live life to the fullest, earn residual income via the PRIB (Perpetual Residual Income Builder) and leave a legacy to future generations.
For more information on ibüümerang, its Chairman and CEO Holton Buggs, its top tier executive team and its revolutionary travel program, please visit the company website at www.ibuumerang.com.