Linley and David Paske Achieve Presidential Black Diamond Rank With PURE
March 30, 2019
By Team Business For Home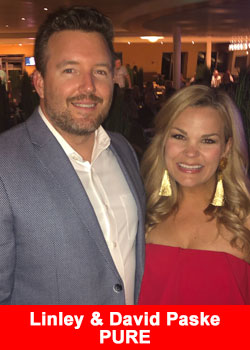 PURE Independent Business Owners (IBOs), Linley and David Paske,have achieved the prestigious rank of Presidential Black Diamond rank through the company's PURE Prosperity Compensation Plan.
"Three years ago, I left my job as a marketing director of a 10-million-dollar company to start my own business as a social media trainer and professional speaker,"
said Linley.
"I am blessed to have the ability to work my PURE business from home. I realized I could make more in a week than I had been making in several months of working my day job.

I feel incredibly blessed to share the gift of PURE with others and to give them the opportunity to improve both their bodies and their bank accounts."
Linley and David Paskelive in Tega Cay, South Carolina. They started their PURE business in June 2018 and have exceeded their expectations.
"Reaching Presidential in less than a year is admirable! The Paske's have built their business through hard work and effort,"
said PURE CEO Daren Hogge.
"Being new to network marketing, their success is a testament to our products and compensation plan and goes to show that everyone at PURE has an opportunity to succeed through effort." 
The PURE opportunity gives people the chance to earn weekly residual income. In addition, through the PURE Rank Bonus, IBOs receive bonuses and incentives.
Beginning at the rank of Platinum Director, awards through the PURE Rank Bonus program range from $1,000 USD all the way to an amazing $250,000 USD.* For official rules and Terms & Conditions on the PURE Rank Bonus Incentive, visit livepure.com/PRB.
About PURE
PURE: People United Reaching Everyone is a leading innovator in health and wellness products. PURE is dedicated to delivering Whole Healthwith high-quality products for physical health, opportunity for financial health, relationships for personal health and social impact for philanthropic health.
PURE is a global company with offices in the U.S., Taiwan, Thailand and Korea with headquarters in Frisco, Texas. For more information on the products or business opportunity, visit www.livepure.com.